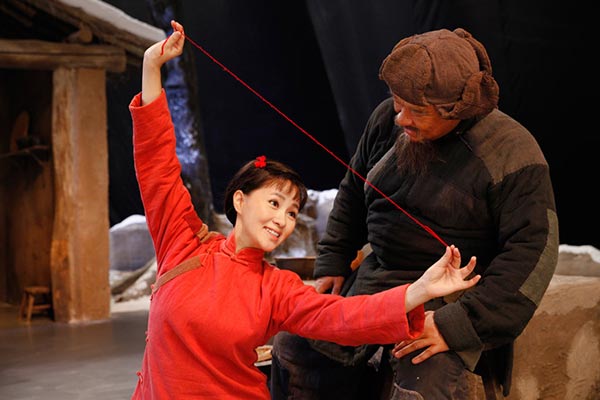 A scene from the remake of The White Haired Girl. [Photo/People.cn]
Theatrical remake of
The White Haired Girl
, a story about a young woman's inner struggle in a time of difficulty, will begin touring nationwide with the first show in Yan'an, Shaanxi province, on Nov 6.
The latest version of the play will be produced by the Ministry of Culture, with China's first lady Peng Liyuan as the artistic director.
The story centers on the life of Xi'er, a girl born of humble origins in Shaanxi province.

Xi'er escapes to hide deep in mountains after her father Yang Bailao is killed by the greedy and cruel debt collector Huang Shiren.

Due to her difficult circumstances and prolonged malnutrition, she loses the color of her youth, as well as of her hair. It is the birth of new China that allows her to lead a normal life once again.

The opera, composed by Yan Jinxuan, was first performed in 1945 with artist Wang Kun in the leading role.

Several remakes have been produced thereafter, including a Peking opera performance in 1958, a ballet version in 1965, as well as an opera starring soprano Guo Lanying and a namesake film adaptation in 1950.
This year marks the 70th anniversary since the birth of The White Haired Girl, the first play China composed after Chairman Mao Zedong's speech at the Yan'an Forum on Literature and Art in 1942.

As a milestone in the development of domestic theater, the play is a fusion between Western performing arts and Chinese history, with folk art from North China and performing techniques in Western opera delicately woven together.