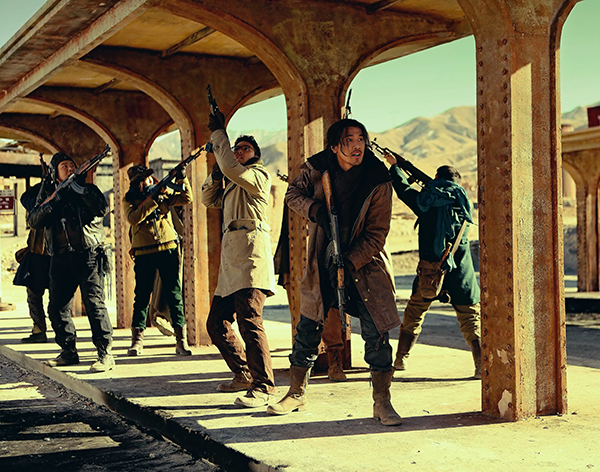 A scene from the movie Chronicles of the Ghostly Tribe, a Chinese-style fantasy production directed by Lu Chuan.[Photo provided to China Daily]
Chronicles of the Ghostly Tribe has 'storytelling flaws', some critics say, but it may open the door to a fantasy genre in China. Xu Fan reports.
When Lu Chuan received a request to direct a film based on the hit novel Ghost Blows Out the Light, the award-winning director was stumped.
While unwritten rules from censors say that ghosts are not allowed in movies and tomb-robbing is also out of bounds, reflecting a modern society, Ghost Blows Out the Light, or Gui Chui Deng, is very popular for its adventures.
Lu had to walk a fine line to make the story work as a film but he resolved the problem skillfully.
The movie, titled Chronicles of the Ghostly Tribe, is about a 10,000-year feud between humans and an alien race called the Ghostly Tribe.
The movie, despite earning mixed reviews, has become the highest-grossing title of Lu's career. Its 680-million-yuan ($106 million) box-office returns are nearly eight times its budget.
While some critics see Chronicles as a "mediocre production with storytelling flaws", others feel it opens a new door for Chinese-style fantasy movies.
Though China has become the world's second-largest movie market since 2012, producing 618 domestic titles last year, very few fantasy movies-a mainstream genre in the global market-were made.
The 2015 Report on Chinese Film Art, an authoritative book on last year's blockbusters, lists only one movie, The Monkey King, under the fantasy category.
The film starring Chow Yun-fat and Donnie Yen is adapted from the Ming Dynasty (1368-1644) novel Journey to the West.
Participants at a Peking University seminar on Sunday on the future of domestic fantasy movies said that most of China's earlier fantasy films were set in the ancient times, such as the Painted Skin series and The White Haired Witch of the Lunar Kingdom, thus avoiding censorship hurdles.