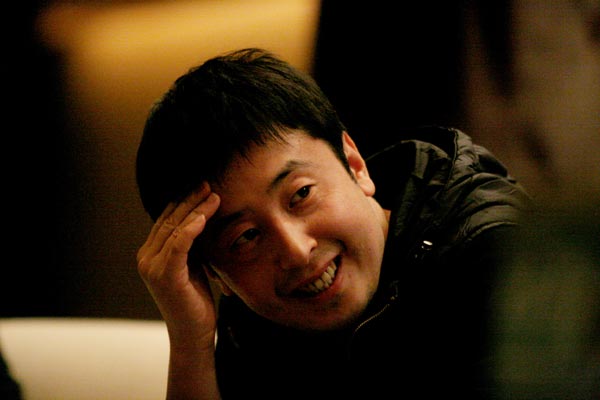 Jia Zhangke says the Internet, although a launch pad for film making talent, brings both positive and negative influences to the industry. Jiang Dong /China Daily
In his latest interview with China News Weekly, Chinese film director Jia Zhangke expressed his personal understanding of love and affection which he has poured into most of his works.
As one of the "sixth-generation directors" in the Chinese cinema industry, 45-year-old Jia has garnered international praise and awards for a number of his films over the past 10 years, with representative works including Mountains May Depart, Still Life, and A Touch Of Sin. In view of his outstanding achievements in the Chinese film industry Jia was presented with the Lifetime Achievement Award at the 68th Cannes Film Festival in May this year.
It's a beautiful thing to put affection and time together: Jia
Jia's film Mountains May Depart tells the story of three good friends throughout three different time frames. It starts in 1999 and takes the audience to 2014 and 2025. Two childhood friends are both in love with a town beauty, who is also a singer and dance instructor. She eventually decides to marry the wealthier one. They soon have a son named Dollar. From China to Australia, the three persons' lives, love, hopes and disillusions are traced over two generations in a society that has been rapidly changing.
Speaking of his original intentions for the film, Jia stressed that this time he mainly focused on individual characters instead of on social problems. "I am neither a journalist nor a sociologist. My goal is to show what kind of new understanding people have of affection with the passage of time, the rapid progress of technology, and the changes of lifestyles and values."
"Birth, age, illness and death -- all the problems of a person's life are accompanied with love. One can achieve a better comprehension of love only after a prolonged period of time," said Jia, adding "in the same way a man practices Buddhism all his life."
Jia insisted that he is faithful to his own feelings about present China, saying "it is a beautiful thing to put affection, love and time together in my film works."
Mountains May Depart premiered at the 68th Cannes Film Festival in May this year and was well-received though it didn't win any awards. It was officially screened on the Chinese mainland on Oct 30.