Call of the turtle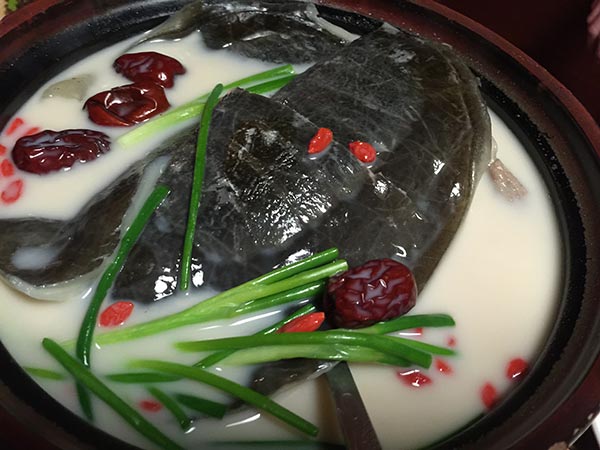 The restaurant's signature turtle soup with spring onions and red dates. [Photo by Mike Peters/China Daily]
This may not be the place to eat if you get seasick easily, my friend jokes as we cross a little bridge to get to our "waterfront" table.
We are actually indoors, not dining at lakeside, but the Xiaoxiang Jiayu Cun restaurant takes a lot of trouble to make you think you are very close to nature.
Inside a charming replica of a small covered Chinese boat, our dinner table is mounted and discreet pumps create the sound of gently flowing water to complete the illusion that we might be on Dongting, the most famous lake in Hunan province.
The illusion is enhanced by the food itself: The menu is organized around fresh ingredients from the area-notably Chinese softshell turtles, which are scrabbling around in a pen near the dining room. In big aquariums nearby, there are lake fish rather bigger than the dinner plates they will be heading for in short order.
Such creatures are central to the cuisine itself. Hunan is perched on the middle reaches of the Yangtze River, and its rivers, lakes and mountain valleys provide an abundance of delicacies, including fish, shrimp, crab and the famous turtles. Hunan cuisine, we're told, demands skillful use of a kitchen knife, a delicious taste and a beautiful shape. Known for sour and spicy dishes, Hunan chefs use a wide variety of cooking techniques to create dishes that boast fresh aroma, some greasiness, deep color, and the prominence of the main flavor in each dish.