A chip off the old block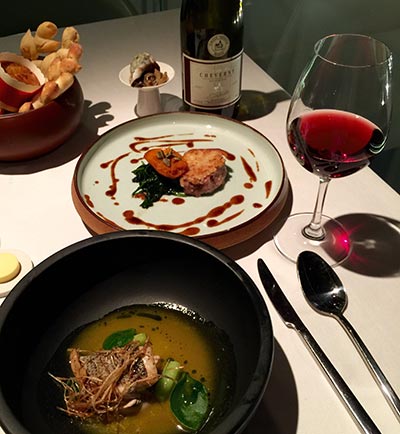 Sea bass in passionfruit sauce (front) and pork tenderloin in a crispy garlic crust are two current offerings on the mix-and-match menu. [Photo by Mike Peters/China Daily]
With a hint of thyme here and a little fugue of garlic there, guest chef Jean-Marc Boyer weaves his South-of-France magic in the shadow of the Forbidden City.
Boyer, who snagged a Michelin star for his Le Puits du Tresor restaurant in a mere four years, was such a hit last year during a similar weeklong stint at Temple Restaurant Beijing that he's back again-this time in the open kitchen at new Temple sibling TRB Bites. The TRB Hospitality Group has become a burgeoning enterprise that now includes the special-events space Copper, TRB Catering, TRB Wine Club, the award-winning original on the grounds of a 600-year-old temple, and now the "modern casual eatery" Bites.
Boyer's mission is once again brief-he'll be on his way back to France by the time you read this-but the fruits of his labors will linger. At Bites, TRB's genial general manager Ignace Lecleir wants a rapidly revolving menu, adding four or more new dishes every 10 days. That means some of Boyer's creations-perhaps the savory sea bass I am sampling at a balcony table-will be around a bit longer than their creator. A visiting chef from Lecleir's home country of Belgium will take over the kitchen for a week in early November, generating more tasty bites at Bites.
The restaurant's driving concept, says Lecleir, is "dining without the inhibition", a more relaxed experience than you'd have at more traditional establishments-such as at the flagship fine-dining restaurant, which routinely scoops up awards for table service that is unmatched in the capital.
Lecleir can be seen at Bites without a tie-unimaginable at TRB or at his previous domain, Maison Boulud. Most of the Bites staff comes from the parent, and during the soft-opening weeks you could sense the effort they were making to mentally loosen that top button. Tonight they're wearing the new vibe naturally-servers even allow themselves to look slightly harried as they cater to a full house on the guest chef's final weekend.
The menu has the diversity of riches one expects from the brand, and some of its airs. The word "foam" appears four times, which suggests that relaxing is a work in progress in the kitchen, too.
But that's a quibble, really. A small plate of squid, cauliflower puree, broccoli couscous and brown butter has the elegance and the adroit mix of flavors you expect from the TRB brand. On another plate, slices of delicately poached chicken float in an electric green sea of vanilla pea puree, a treat for the eyes as well as the taste buds. The desserts are predictably rich, from a medley of chocolate textures to a "simple" array of berries, yogurt and mint ice cream that's pretty as a picture. Like at the parent restaurant, complimentary nibbles of other sweets will also discreetly appear by the time you are ready for coffee or tea.
The new eatery blooms in the space occupied until recently by Brian McKenna at the Courtyard, after that prize-winning chef closed up shop to devote himself to catering and other enterprises. The bright white walls and big-beam ceiling give the restaurant a pleasant, airy feel, as does the hip techno-jazz soundtrack in the background. Compared to the original Temple, the prices are relaxed, too: 188 yuan ($30) for three courses, 248 for four plates and 288 for five.
The fresh take at Bites is that these are not set menus but build-your-owns: You pick any three to five items from the menu. (You can have all desserts if you want, the menu winks.)
There will also be separate seasonal specials: Right now there are three platters that capitalize on fresh shellfish. We opt for the mid-price selection, with a half-lobster, two razor clams, two Gillardeau oysters, four prawns, four whelks and a side of dill and caper mayonnaise for 598 yuan. Every day, there's an express lunch option: two courses for 98 yuan.
The frequent turnover of new takes on classic Western dishes means you're never likely to have the same meal twice here. As I look at my scraped-clean plate, that seems almost a pity. And as Bites is just a short walk from some of Beijing's main performance venues, it's a welcome addition to a neighborhood short of good show-night dining options.
If you go
TRB Bites
11:30 am-10:30 pm daily. 95 Donghuamen, Dongcheng district, Beijing. 010-6401-6676.
Related: