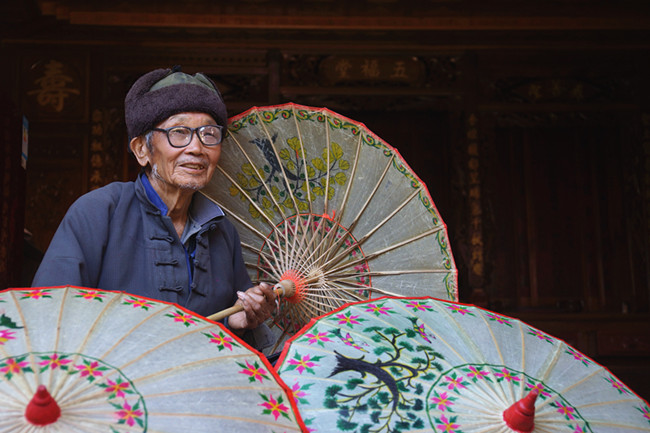 Zheng Yinghai, who is 90 years old, poses for a photo with umbrellas he made by hand. [Photo by Xu Jing/chinadaily.com.cn]
Fifty kilometers from Tengchong county in Northwestern Yunnan province lies Xingyang village, a village with a nearly 300-year history of making handcrafted oiled paper umbrellas.
According to elderly villagers, the technique of umbrella making originated from Sichuan province. In the Qing Dynasty (1636 - 1912), a Xingyang local learned it from two Sichuan umbrella traders in Tengchong, and brought it back to the village. Since then, Xingyang villagers used local materials such as reeds and bamboo to carry on and develop the traditional technique during their slack season.
In the past, almost 80 percent of the households in the village made umbrellas in their spare time. They used to sell the umbrellas in the village fair to earn additional income. According to customs in areas surrounding the village, there must be two oiled paper umbrellas in a bride's dowry, because the word for oil is homophonic with "rich", and the word for paper is homophonic with the word for "son". The locals believe that oiled paper umbrellas can bring prosperity and more children to the new couples.
In fact, throughout Yunnan province, Xingyang oiled paper umbrellas are famous. Usually, most of their products are sold to Kunming, the capital of the province, as well as other large cities like Dali and Baoshan, and even cities in Myanmar.
However, oil paper umbrellas have lost their practical function gradually with the development of manufacturing, so handcrafted umbrellas lost their market due to the high cost of labor and the inconvenience of carrying the bulky umbrellas around. In the last 10 years, more and more young people in Xingyang village prefer to work in other cities.