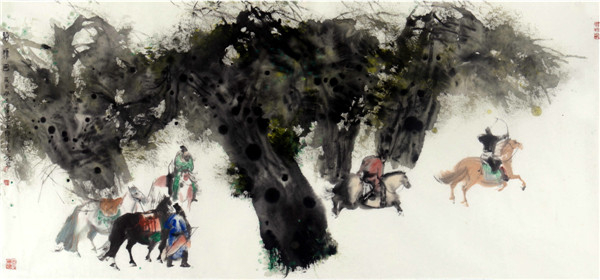 A traditional Chinese water-and-ink painting by Peng Xiancheng. [Photo provided to China Daily]
For many years, seeking to avoid comparison, artist Peng Wei has been unwilling to hold a show jointly with her father, Peng Xiancheng, who gained fame for traditional Chinese water-and-ink paintings decades ago. Now the daughter is finally stepping forward to present her works and her father's together for the first time, confident she has developed her own artistic style.
Peng Wei, 41, and her father, 74, both do water-and-ink paintings. However, the father focuses on traditional Chinese paintings while the daughter paints on shoes, plastic bodies and clothes, a kind of installation art.
About 40 of their works are on display at Sotheby's S2 gallery in Hong Kong. The ink art of two generations is "a special way to show her respect and love for her father", says Peng Wei.
Kevin Ching, CEO of Sotheby's Asia, says the father and daughter are very different in style and presentation of ink arts.