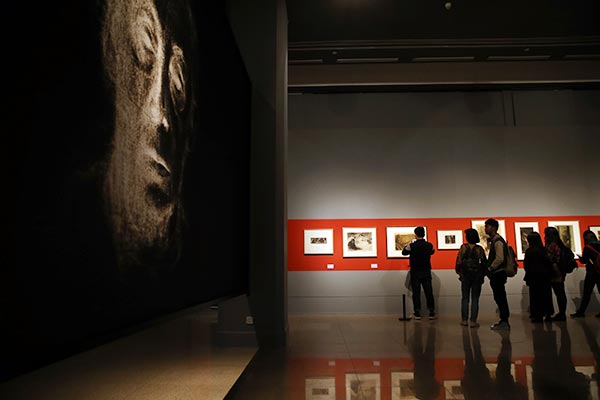 Power of Black and White shows the impact of Kaethe Kollwitz's art in Germany and China. [Photo by Jiang Dong/China Daily]
When Chinese author Lu Xun (1881-1936) first saw Kaethe Kollwitz's prints he received from a friend, he was caught up by her realistic ideas, strict standards of art and excellent printmaking skills.
He collected works of Kollwitz, among Germany's prominent artists of the 20th century. With great enthusiasm, he widely introduced her art to young woodcut artists who embraced a socialist spirit.
He had dreamed of organizing an exhibition of Kollwitz's art in China before his death.
Power of Black and White, an exhibition of Kollwitz's representative works, realizes Lu's unfulfilled wish in his life.
It is being held at the National Art Museum of China, and marks Kollwitz's deep concerns for victims of poverty, oppression and war.
The exhibits include all of her prints, such as the acclaimed The Weavers and Peasant War series, as well as the self-portrait drawings and sculptures, and several posters she created to raise Germans' awareness of social problems.
They are on loan from a few German museums and private collectors. Some exhibits are being shown in China for the first time.
Wu Weishan, director of the National Art Museum of China, says the exhibition title refers to not only Kollwitz's works of black and white, but also it tells her "clear attitudes toward right and wrong".
"She found the meaning to create when experiencing the contradictions of war and peace, and righteousness and evil throughout her life," he says.
One sculpture, Mother with Her Dead Son, indicates the deep sorrow that engulfed Kollwitz all her life after losing her son in World War I and a grandson in World War II.
The artist died just a few months before the end of the latter war.
The work exemplifies the motif of love and strength of mothers when defending their children that recurs in many of Kollwitz's works.