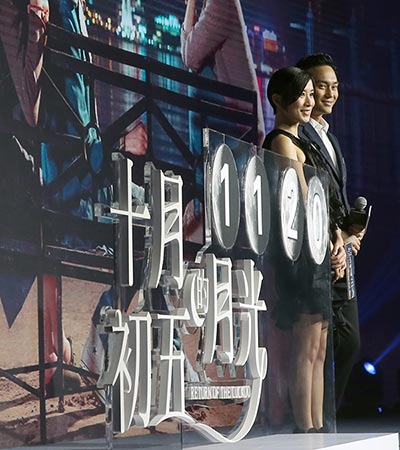 Julian Cheung (left) and Charmaine Sheh. [Photo by Jiang Dong/China Daily]
Return of the Cuckoo
, a popular Hong Kong TV series, has been adapted into a movie by the same name and retains the original lead stars Julian Cheung and Charmaine Sheh.
The movie is set for release across the mainland on Nov 20.
When the romantic series premiered on Television Broadcasts Ltd in 2000, it broke a slew of rating records, peaking at nearly 50 percent of TV viewership at one time.
Last week, TVB, one of Hong Kong's most influential broadcasters, started to air the series again, sparking nostalgia among fans and drawing around 300,000 viewers on the first night.
The upcoming movie, following the series' storyline, centers on the reunion of the lead characters who were once lovers but had been separated for more than a decade due to personal misunderstandings.
Cheung, 43, told a recent media event in Beijing that the movie will have more interesting plot twists than the series.
"As the series is already a classic, ... I was concerned that the movie might find it hard to surpass (expectations)," said Cheung, a veteran Hong Kong-based actor. "But after I read the script, I was convinced that it would be a worthy try to give the series a happier ending."
For most of the mainland fans, Hong Kong movies and TV series have formed a significant part of an entire generation's collective memories.
"Cantonese-speaking titles were pretty popular in the 1980s and '90s. Many fans learned Cantonese by watching such programs. We believe the emotional connection will now lure them to the cinemas," said Li Yansong, CEO of iQiyi, one of China's largest video-streaming websites and also a coproducer of the movie.
The movie has been coproduced by iQiyi and Hong Kong-based studio China 3D Digital Entertainment Ltd.
Related:
UK's Catherine attends premiere of Spectre