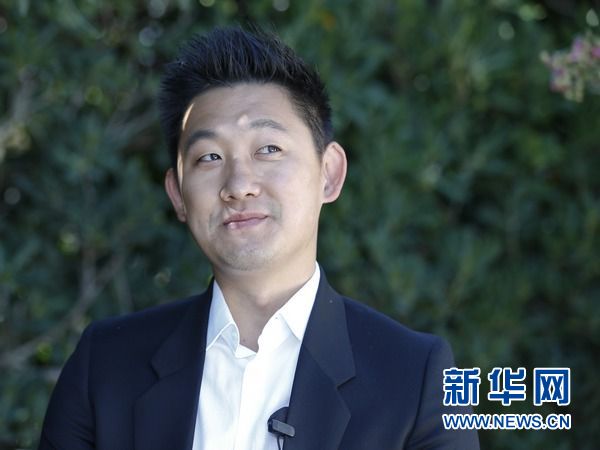 Chinese director Song Pengfei. [Photo/Xinhua]
Emerging Chinese director Song Pengfei could hardly believe that his first try at film directing would turn out to be an immediate success.
At Friday night, amid applause and enthusiasm, Song, director of a movie entitled Underground Fragrance, came to the stage at the Peninsula Hotel, Chicago, a city in the US state of Illinois, to claim Gold Hugo for New Directors at the 51st Chicago International Film Festival. Underground Fragrance is a feature film presenting ordinary people striving to move up in today's China.
Song was joined by Song Zhantao, director of the documentary In the Underground, which tells about the lives of miners in north China's Hebei province, who won the Silver Hugo Award for the documentary, and Jia Shaowei, producer of In the Underground. The two Songs are not related.
"I'm mesmerized by the film," said Claudia Landsberger, jury of New Directors Competition, referring Song Pengfei's feature film Underground Fragrance.
"When you watch the movie, you can actually feel it, smell it. It's your life there," she said. "When the film ends, you want to know what happened to the people afterwards."
Landsberger said the film tells so much about modern China and it's amazing that such a film is from a new director.
"This is my first film," said Song Pengfei, the director of the feature film. "The recognition will certainly encourage me to continue pursuing my style and themes of interest."
Song Zhantao, director of the documentary In the Underground, said in an interview with Xinhua that he had worked on the film for two years, befriending miners by going down the mine with them and gaining their trust to present their hard but resilient life.
"Seventy percent of energy in China still come from coal, and I want to show the lives and work of miners," said Song Zhantao. "Like everyone else, they want to live a better life."
"These miners may not be well educated and versed, but once underground, they would risk their own lives to save their fellow brothers," Song Zhantao added.