Young designers bring Cardin show to Beijing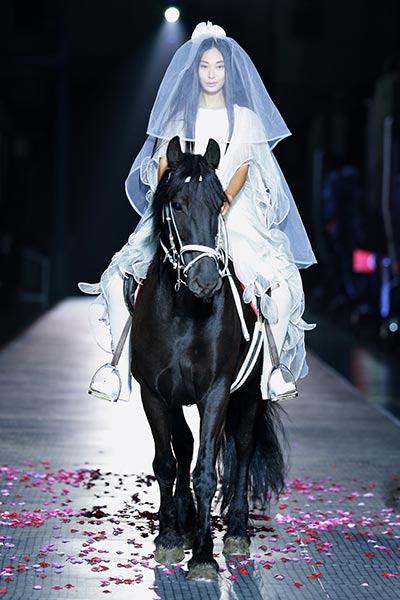 A model presents creations by Pierre Cardin. [Photo provided to China Daily]
Under the label Pierre Cardin, two young French designers Richard Raczynski and Sergio Esposito gave a runway show at the Railway Museum in Beijing on Oct 20.
To the music of Beethoven's symphonies, the show released some 80 pieces of Pierre Cardin 2016 spring/summer collection. It includes business suits, casualwear and evening dresses — the last featuring silk and neoprene fabrics and flowery prints.
The show ended with two brides in white wedding gowns who rode onto the stage on horseback.
Pierre Cardin was the first Western fashion brand that came to China. Cardin, 93, presented the first runway show in Beijing in 1979 when the country just recovered from the "cultural revolution" (1966-76) and all the people still wore solid black, green and blue.
He also opened Maxim's restaurants in Beijing, Shanghai and Hefei.