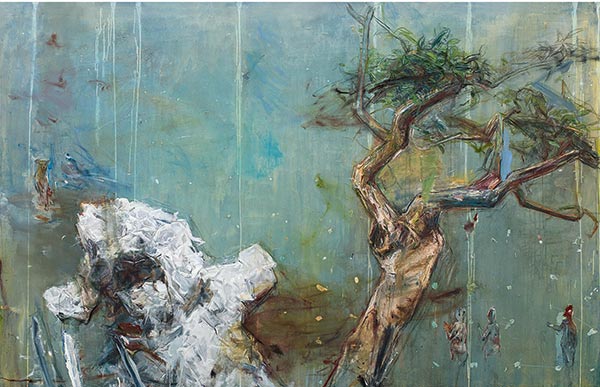 An artwork by Tu Hongtao. [Photo provided to China Daily]
The evolution of Chinese oil painting in the 20th century will be marked at a Beijing auction in November.
A total of 24 paintings will go on sale in China Guardian Auctions' night sale, which usually features "star works" that are expected to fetch high and even record prices.
The lots were executed by artists whose presence and creativity shaped and are shaping the landscape of Chinese oil painting. They include pioneers of the early 20th century, such as Wu Dayu and Chang Shuhong, who were introduced to Western art and endeavored to incorporate oil painting with Chinese cultural features.
Paintings of artists active between 1949 and 1979, such as Luo Gongliu and Dong Xiwen, show that they explored on a more profound level to establish a realist style under the special social and political circumstances at the time.
Works of the younger generation, including Wang Yin and Tu Hongtao, tell of much more diverse and highly-personalized experiments with contemporary art.