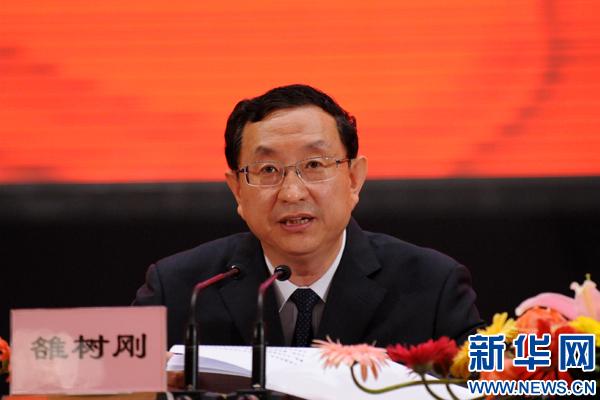 Luo Shugang, Chinese Culture Minister, speaks at the 2nd China-Central and Eastern European (CEE) Countries Cultural Cooperation Forum. [Photo/Xinhua]
The 2nd China-Central and Eastern European (CEE) Countries Cultural Cooperation Forum was held on Nov 13th in Sofia, Bulgaria. Chinese Culture Minister Luo Shugang and other Chinese government representatives attended the forum.
In retrospect, Luo highly praised the achievements in cultural exchanges between China and CEE countries, analyzed the opportunities and challenges, and came up with suggestions, including: stressing the importance of top-level design, enhancing communication and coordination on cultural policies and form more high-quality platforms for cultural communication; let official cultural exchange continue to play the exemplary role and fully engage social forces, design and launch more creative and sustainable exchange programs; strengthen the research on cultural traditions and current development of each country, promote the direct contact of cultural institutions, open the channels for further cultural exchange; increase the cooperation on cultural creative industries, scale up cultural exchange and stimulate the cooperation in a comprehensive and balanced manner.
On cultural heritage protection, Luo pointed out that the salvage, protection, inheritance and utilization of cultural heritage has emerged as a worldwide issue. He appealed for sincere respect for each nation's ancestors, history and traditions, keeping the common cultural heritage of humans alive in the future through an enlightened view of conservation.
Luo further proposed to increase international cultural cooperation and cultural trade, as well the internationally collaborative study of cultural industries.
The Sofia Declaration of 2016-2017 Cultural Cooperation of China and Central and Eastern European (CEE) Countries was approved by acclamation at the end of the forum.