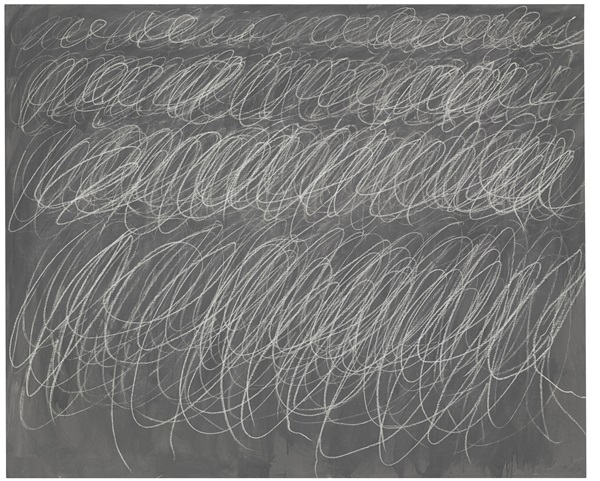 Cy Twombly, Untitled (1970). Courtesy Christie's.
An untitled "blackboard" work by Cy Twombly sold for a record-setting $70.5 million at Sotheby's on Wednesday, leading the way to a $295 million total at the auction house's sale of contemporary and post-war art.
The untitled oil and crayon-on-canvas from 1968, one of the artist's seminal blackboard works meant to resemble chalk on blackboard, was sold to an anonymous client and exceeded Sotheby's' estimate of a sale price in excess of $60 million.
The Twombly, last auctioned in 1990 when it fetched $3.9 million, benefited a foundation with proceeds earmarked for a new facility at a Los Angeles temple.
The auction of 54 works took in a total of $295.85 million, drawing whoops and cheers from both clients and Sotheby's staff as the hammer fell on the last lot, following two weeks of steady, if not exactly blockbuster results.
Christie's achieved the second-highest price in art auction history on Monday when it sold Modigliani's "Nu couche" for $170.4 million.
Auction officials have stressed that the sales were chiefly assembled over the summer when roiling world stock markets unnerved high-end collectors, who typically attempt to cash in on a boom such as the one which has prevailed for some five years.
Warhol's 1972 "Mao," a large-scale work depicting Mao Zedong reportedly being sold by hedge fund manager Steve Cohen, beat its $40 million estimate, fetching $47.5 million including commission to nab the evening's second-highest price.
Other highlights included an untitled 1987 work by Jean-Michel Basquiat, which was sold by the artist's estate and soared to $8.3 million, some four time the pre-sale estimate.
Francis Bacon's "Portrait" fetched $15.7 million, in the midst of its estimate range, while Jackson Pollock's "Number 17" sold for $22.9 million, just meeting the low estimate.
The sale took Sotheby's over the $1 billion mark for its series of key autumn auctions in the Impressionist, modern, contemporary and post-war art categories.
The autumn auctions wrap up on Thursday with Christie's' sale of Impressionist and modern art.