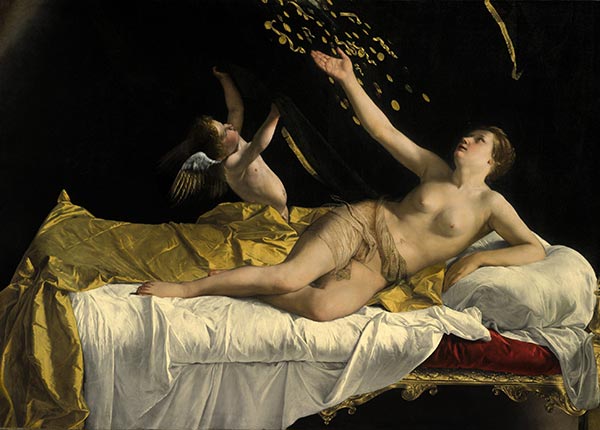 Orazio Gentileschi's Danae. [Photo provided to China Daily]
A 17th-century Italian Baroque painting will be auctioned in January in New York, with an estimate of $25-35 million.
Danae, a masterpiece of Italian painter Orazio Gentileschi, will appear at Sotheby's evening sale of "master paintings". It was on loan to the Metropolitan Museum of Art for the last two years.
The painting will be on show at the international auction house's gallery in Hong Kong on Nov 23 and 24.
Gentileschi's Danae is based on Greek mythology.
On being told that he would be killed by his daughter's son, King Acrisius of Argo locks his daughter Danae in a secret chamber to keep her away from possible suitors.
Zeus, the God of Sky and Thunder, who is charmed by the beauty, manages to enter the chamber, and appears in the form of golden rain that streams down into Danae's womb.
Gentileschi reinterpreted the scene by depicting Cupid pulling back the curtains above Danae and announcing Zeus' arrival as a shower of golden coins.
Related:
Top 10 most expensive artworks sold at auction