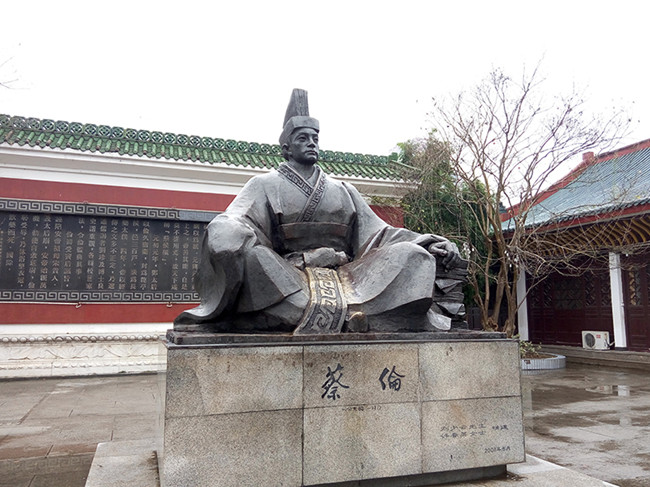 Cai Lun Memorial Park was set up in 2001 in the city center of Leiyang, Hunan province. [Photo provided to chinadaily.com.cn]
Leiyang in Hunan province is the birthplace of the creator of advanced papermaking and Great Seed Inc, a start-up and intangible cultural heritage online community, ended their "Paper Culture Along the Silk Road" documentary investigation and carried out contemporary art creative work to pay respects to the originator of papermaking.
Cai Lun, a Han dynasty (202BC-220AD) Chinese eunuch and official, is traditionally regarded as the originator of paper and the papermaking process, in forms recognizable in modern times as paper. Although early forms of paper had existed in China since the 2nd century BC, he was responsible for the first significant improvement and standardization of papermaking by adding essential new materials to its composition.
After such improvement, paper became widely used as a writing medium in China by the 3rd century, and enabled China to develop its civilization much faster than it had with earlier writing materials. In the book The 100: A Ranking of the Most Influential Persons in History by American astrophysicist and author Michael H Hart, Cai ranks seventh, higher than Christopher Columbus and Albert Einstein.
On the final day of their trip, Great Seed staff visited the Cai Lun Memorial Park in Leiyang, and paid tribute to Cai in a special way. In their collective creation, traditional handcrafted paper became a stage. All 12 members expressed their feelings toward papermaking and Chinese culture with any objects apart from a pen, pencil or writing brush.
Chinese contemporary artist Wang Yiqiong took the lead in creating a Song dynasty style work with a bamboo branch, withered bark, weeds and fallen leaves. He named his work Spring, Summer, Autumn and Winter. With his inspiration, other staff members finished their own works in different themes using different materials.