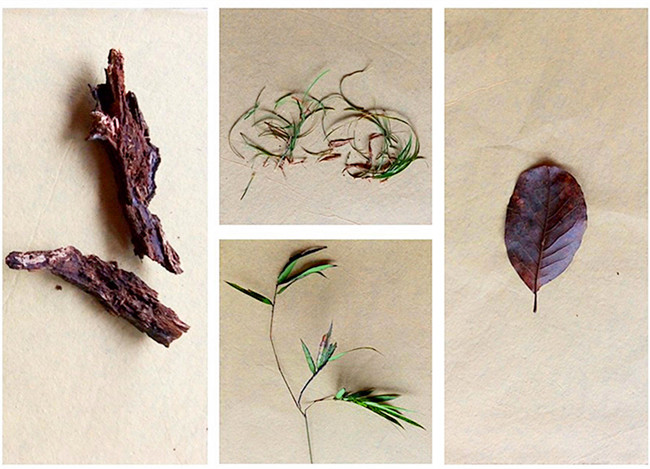 Wang Yiqiong created Spring, Summer, Autumn and Winter with bamboo, withered bark, weeds and fallen leaves. [Photo provided to chinadaily.com.cn]
The contemporary creation was a gift dedicated to Cai and his great improvement. It also caused a rethink for Leiyang locals on new trains of thought on protection and development of intangible cultural heritages.
According to Liang Chengfu, inheritor of traditional handcrafted papermaking, he made paper at the museum of the memorial park almost every day, but it was his first time to deal with contemporary arts.
"I put my tweezer on the paper. You know, I use it to separate paper almost everyday. At that moment, I think it becomes the summarization of my life, and it can express my respect to Cai Lun. I name it Tools. Tweezer is my tool in work, while paper is another kind of tool in many people's life. I can't believe that I have so many feelings at the moment. I can't believe I'm involved in a contemporary creation. That's really cool," Liang said.
Great Seed began its exploration of the origins and development of Chinese papermaking technology and production in its documentary "Paper Culture Along the Silk Road" on October 20. The team was formed by scholars in the field of traditional Chinese culture, contemporary artists, journalists and videographers.
In a 14-day trip, they visited five locations of ancient papermaking in Yunnan, Guizhou, and Hunan, covering a journey of 5,000 kilometers. For the first stop, they explored traditional techniques of Dongba papermaking, which was inscribed on the first batch of national intangible cultural heritage in 2006, in Shangri-la, Southwest China's Yunnan province.