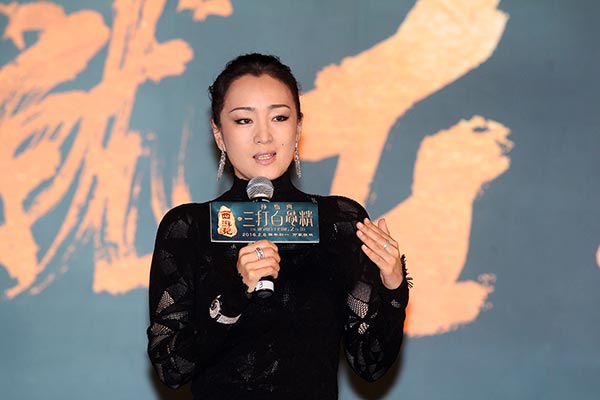 Actress Gong Li attends a press conference to promote her latest film The Monkey King 2. [Photo provided to China Daily]
China's famed fictionalized hero Monkey King will soon meet the domestic moviegoers in the year of his own.
Producers of The Monkey King 2, the second installment of the franchise, recently announced that its nationwide debut will fall on Feb 8, the Chinese Spring Festival and the start of the Year of the Monkey.
Adapted from a chapter of the Ming Dynasty (1368-1644) novel Journey to the West, the tale centers on how the Monkey King helps his monk master to flee the pursuit of a female monster, known as White Skeleton Demon.
Gong Li, one of the first mainland actresses to be recognized by the West, will play the role of the demon, who can transform to human beings as depicted in the novel.
"The shooting is funny and impressive. When I was the first time hung on a wire to perform like as if I could fly in the sky, the feeling is so cool," Gong recalled at a recent Beijing media event.
Gong notes that the age of her character spans from 18 to 86, which makes the six-hour makeup process a daily challenge for her.
The big-budget movie is directed by Hong Kong veteran filmmaker Cheang Pou-soi. Its crew consists of an international production team and uses cutting-edge cameras from Cameron Pace Group, rarely adopted for films in Asia.
The movie also stars Hong Kong actor Aaron Kwok, Chinese mainland actors Feng Shaofeng and Xiao Shenyang, and Chinese-American singer/actor Christian Rand Phillips.
Related: