Turning faith into desirable brand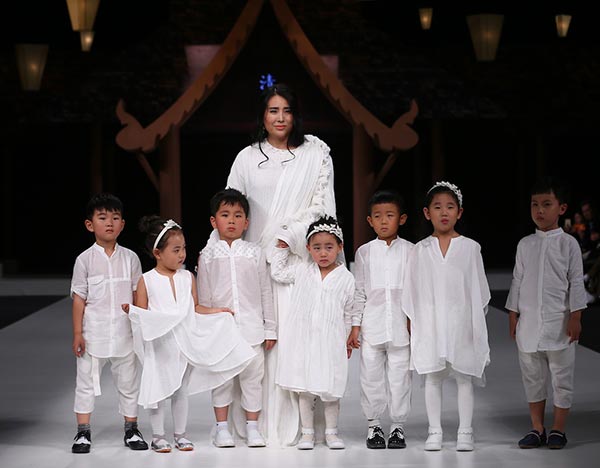 Designer Zheng Qing'er with children wearing her outfits at the recent China Fashion Week. [Photo provided to China Daily]
Some people call fashion a religion. For Chiang Mai-based Chinese designer Zheng Qing'er, religion is where her fashion begins.
The devout Buddhist made her runway debut at China Fashion Week recently. Inspired by a trip to the Tibet autonomous region, the collection features robes, gowns and capes influenced by both Tibetan ethnic wear and traditional Chinese costumes.
The show was held in five parts-blue, white, red, green and yellow, in accordance with the Tibetan prayer flag, which is invoked for fortune.
The runway was constructed like the wooden corridor of the 500-year-old Wat Ton Kwan temple in Chiang Mai where Zheng usually meditates.
The catwalk was lit with lanterns inspired by Loy Kra Thong, a traditional Thai festival when people release paper lanterns into the air.
Zheng believes that loose-fitting garments made using natural fabrics can help people find inner peace.
"All objects have a power within them. If you put your heart in it, people can feel it," she says.