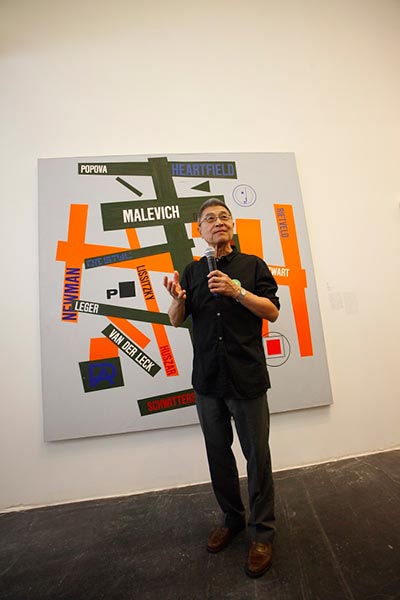 Chinese-American artist David Diao introduced his works at a solo exhibition currently at UCCA.[Photo provided to China Daily]
As part of the UK-China 2015 Museum Dialogues, a discussion was held at Beijing's Ullens Center for Contemporary Art on Wednesday focusing on how a museum can be loved and supported on a sustainable basis by the public.
Administrators of Chinese and Britain art museums, including the Tate Modern in London and Power Station of Art in Shanghai, exchanged ideas on innovative approaches to connecting with local communities and the vision of a more inviting museum.
Both UCCA and PSA presented various programs to establish a stable connection with children and parent visitors. They provide educational courses and film screening to broaden people's understanding of contemporary art.
Alistair Hudson, director of the Middlesbrough Institute of Modern Art, shared the gallery's practice of localism — supporting local artists and involving local residents in MIMA's operation.
He said the museum not only includes the public in the exhibition planning and programming; it aims for consumers' involvement in the day-to-day functions.
Related:
Auction nets $42.8 million for Modigliani