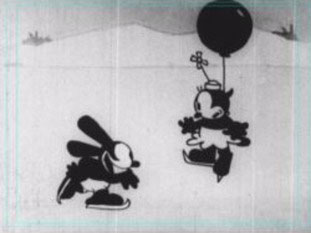 A scene from Sleigh Bells (1928): Oswald the Rabbit skates towards his wife, Ortensia the cat.[Photo/Agencies]
The first-ever character animated by Disney, "Oswald the Lucky Rabbit" is set to be a star again.
This comes after one of the films he appears in has been rediscovered 87-years after it was produced.
Sleigh Bells, a 6-minute animation, has been discovered by a researcher browsing an online database of the British Film Institute's archives.
The BFI says the find is believed to be the only surviving print of the 1928 film.
Walt Disney Animation Studios has since used the print to make a new master and digital copies.
A fully-restored version of Sleigh Bells is set to be shown next month as part of a collection of Disney shorts made from the 1930s to present day.
Related:
Kung Fu Panda 3 to debut in January 2016