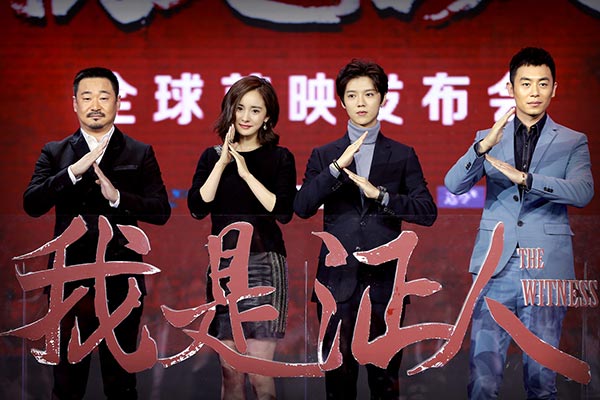 Cast members of The Witness, including actress Yang Mi and actors Lu Han (second from right) and Zhu Yawen (right). [Photo provided to China Daily]
The coming-of-age crime thriller
The Witness
, a Chinese remake of the South Korean hit
Blind
, opened to a big weekend on Friday by topping the single-day box office charts. The film grossed 33.5 million yuan ($5.3 million) from around 28 percent of the nation's 290,000 screens that day.
South Korean auteur Ahn Sang-hoon, the director of the 2011 movie Blind, brought most of his homeland crew — including the action and costume designers — to shoot the Chinese remake in several mainland cities.
The film, a revised version of the South Korean movie, is about two murder witnesses' bid to flee from a killer.
Actress Yang Mi and pop singer Lu Han, a former member of South Korean boy band EXO, play the leads. Mainland actor Zhu Yawen plays the role of the murderer.
Ahn said last week in Beijing that the new version is a localized tale for Chinese viewers. Actress Yang, who plays a blind witness who loses her sight in an accident, said that she lived in a vocational school for blind or weak-sight students to prepare for her role.
"I was told that people not born blind usually suffer serious mental problems and some even commit suicide," she said. "The experience let me get into their world … it was pretty touching."
The Sino-South Korean film will be released in the United States, Australia, New Zealand, Canada, South Korea and Japan.