The Home-cozy with creative twist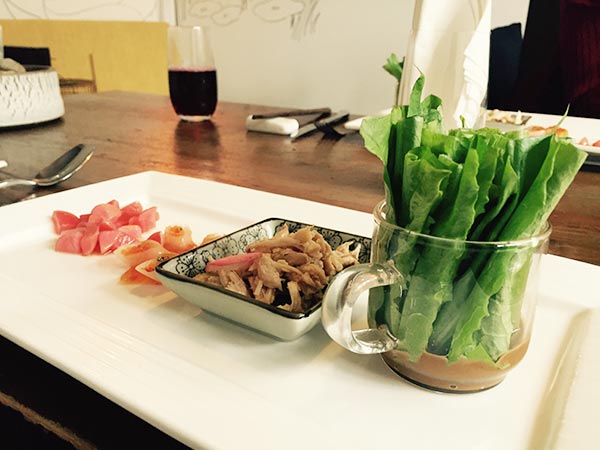 The Home serves authentic Chinese cuisine with a modern and creative twist. [Photo by Liu Zhihua/China Daily]
It is difficult to find information about The Home restaurant in either Chinese or English cyberspace, just like it is difficult to find a private kitchen from among the lookalike compounds in narrow hutong alleys around Beijing's Bell and Drum towers.
But, though it just opened in early August, it has made it into the restaurant list of China Restaurant Week, a culinary event in September held by international high-end restaurant guide DiningCity, which selected top restaurants for foodies to dine at paying discounted prices.
It was voted by diners as the "best hidden gem" during the event. Now it gets fully booked every day for its 12 dining seats, having a growing fan base.
I visited the restaurant recently, and was surprised by its small size but cozy and elegant setting.
The log furniture in the two-room restaurant has a strong Chinese touch, and even the wall is decorated with photos of doors in the hutong and paintings of lotus, a flower highly valued in Chinese culture for its purity.
The owner and chef Yang Zhanwen designed the restaurant himself, and told me he named the restaurant The Home in English, because he wants people to feel as if they are at home.
The Chinese name, He Mu, literally "harmony" and "wood", is a pun for "harmony", the chef says, adding that wood brings him luck according to Chinese wuxing (five phases of wood, fire, earth, metal and water) theory.
Born in 1972 in Beijing and a graduate of an occupational school in 1990, Yang used to work for famous hotels, but got tired of what he felt were too many limitations on innovation.
He wants to serve authentic Chinese cuisine with a modern, creative twist. Opening his own private kitchen seemed to make the sky the limit, he says.
Yang believes the core character of a country's cuisine is not the ingredients used or cooking methods adopted, but people's collective eating habits and preferences. These evolve when options for ingredients and cooking methods widen.