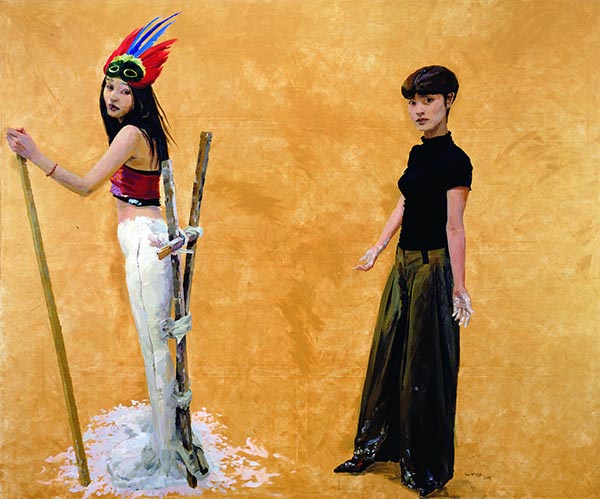 Us Two-Yu Hong and Zhao Bo. [Photo provided to China Daily]
The Temperature of History displays more than 200 figurative oil paintings that as a whole trace the development of oil painting in China.
The touring exhibition had been exhibited at the China Art Museum, Shanghai and Beijing's Taimiao, before arriving for its current showing at the Jinling Art Museum in Nanjing, Jiangsu province.
The exhibits largely come from the collection of Beijing's Central Academy of Fine Arts, which organized the show.
"Chinese oil painting has developed rather swiftly and toward multiple orientations since the 21st century," said Yin Shuangxi, the exhibition curator and a professor with the academy.
"Besides the traditional portraits, artists are exploring with super-realistic and very symbolic approaches."
The exhibition will travel to museums in Shandong, Guangdong and Hubei provinces.
Prominent artist Jin Shangyi visited the exhibition held at Beijing's Taimiao in September. [Photo provided to China Daily]
Related:
Works of ink masters to be auctioned