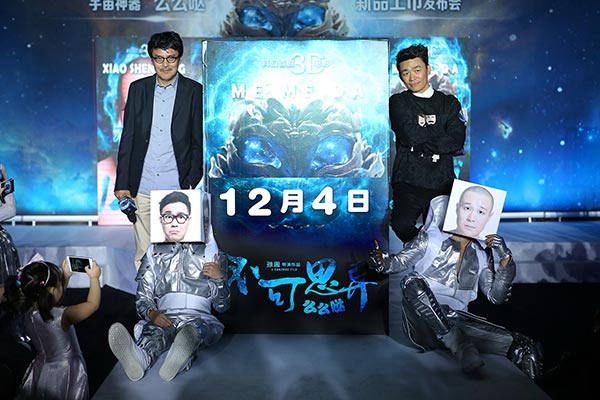 Actor Wang Baoqiang (right) and director Sun Zhou promote Impossible, a sci-fi movie that will premiere on Dec 4. [Photo provided to China Daily]
Chinese science-fiction fans may be in for a surprise.
After years of seeing wonderlands depicted in Hollywood sci-fi blockbusters, they may now increasingly get to see "made in China" aliens and future worlds.
At a recent forum it was revealed that in the first three quarters of 2015, plans for more than 80 sci-fi movie projects were registered with the country's regulator for the movie sector.
In comparison, last year hardly saw any registrations of homegrown titles in this theme, says Wu Yan, head of the sci-fi creative research center of Beijing Normal University, the country's first institution offering sci-fi master's and PhD programs.
In 2014, 618 movies were produced generating nearly 16.2 billion yuan ($2.53 billion), or 54.5 percent of the total 29.6-billion-yuan box office revenues, according to the State Administration of Press, Publication, Radio, Film and Television.
The forum, titled "Sci-fi films' Writing and Development", was held on Oct 22 by Beijing Normal University and Bianjubang, a popular online platform for screenwriters.
Many film industry sources say that 2015 could be the start of a new era for Chinese-language sci-fi movies. They say that key developments in the country's sci-fi sector included the announcement that five novels by China's most popular sci-fi writer Liu Cixin were to be adapted for the silver screen.
Liu gained international repute after becoming the first Asian writer to win world sci-fi literature's top honor, the 2015 Hugo Award for best novel.
Besides the commercial interest sparked by Liu's achievement, the creation of the vivid computer-generated monster in Lu Chuan's sci-fi adventure Chronicles of the Ghostly Tribe has also convinced some critics that China's film industry can reach Hollywood standards in sci-fi film production.
"China's movie market has been growing rapidly in recent years. So, it's a good time to give a boost to domestic sci-fi movies, which have been struggling for decades due to cultural and technical hurdles," says Zhang Xiaobei, the founder of Battlestar Trailer Studio, a Beijing-based company tailoring preview videos for upcoming films.
Zhang, also a sci-fi film critic, says that China needs to speed up on building of infrastructure for a future sci-fi "kingdom".
"Most Chinese sci-fi authors now write as a hobby as they cannot earn a decent livelihood just by writing tales," says Zhang.
"Even famed writers such as Liu have to spend a lot of time promoting their novels as they cannot afford to hire professionals."
A complete system, including state-of-the-art film technology and government support, should be established to boost sci-fi, says Zhang.