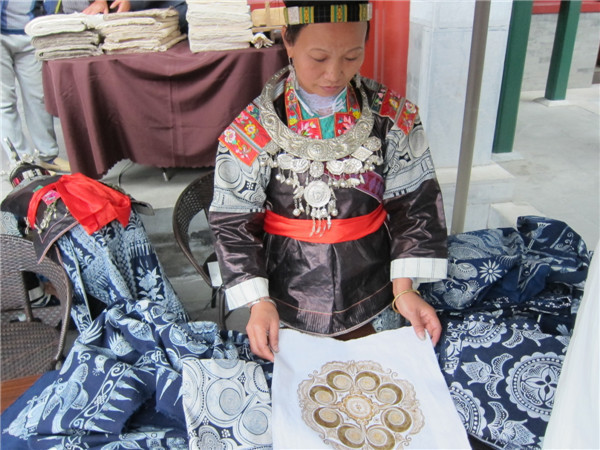 Yang Chunyan from Guizhou sells batik pieces at a charity bazaar in Beijing. She also brings a wax-printed half-finished cloth for demonstration. [Photo by Sun Ye/China Daily]
Not too many people still weave Miao brocade these days. Not the traditional way Gan Xiaozhi does, with a loom, and hand pick to straighten silk and woolen threads, and then spinning out patterns that tell stories of the Miao ethnic group that doesn't have a written language.
"I learned it from my grandmother and mother," Guan says. "The craft used to be the most decisive thing that tells how good a girl is, but today's girls generally don't like to do it any more," says the 30-year-old from Leishan county, Guizhou province, who was showing her work at a charity bazaar in Beijing last week.
She sells handmade shawls, clothes and other Miao brocade artwork that typically take days, even weeks, to make the old-fashioned way. Though these brocades were once made for everyday home use, they're entering the market now. One celebratory totem embroidery, created by the village's most skilled woman over a span of three months, fetched more than 20,000 yuan ($3,300) at the Beijing event.
Gan's own workshop will turn out four pieces this year. It now employs more than 50 local women, mostly 20-to 30-year-olds. Gan is optimistic about what the future might bring.
Gan says she's indebted to the Citi-Guizhou Handcraft Development Program, the program that found her and has helped her run the workshop since 2011.
"Before, the brocades were for our own clothes only. The art was not well-known enough outside," Gan says.
In the years when she was growing up, young villagers were migrating to cities for better-paid jobs, leaving mostly old people behind. The province, one of the most ethnically diverse regions in the country, also has some of the nation's poorest villages due to harsh terrain, poor transportation and lack of a pillar economic industry.
"But now our brocade makes money. Some young women, especially those with kids choose to stay at home to weave and take care of the family instead of going out to work," she says. Though she doesn't have an exact number, Gan says the workshop's earnings are increasing by more than 10,000 yuan yearly.
Backed by Citi Foundation, the community-based Conservation and Development Research Center of Guizhou Normal University and the US-based Mountain Institute started the handcraft development program in 2010, seeking a balance between cultural inheritance and economic development.
"As we are in a commercial society, economic development for all is very important," says Ren Xiaodong, the program director at the research center. "But we hope the crafts and art of ethnic groups can be sustained in this climate and we firmly believe they can."
"Our goal is to help them overcome poverty with their own traditional handicrafts," he says.
"The key is letting the outside world know about the value and meaning of their handmade art, and making the locals realize that their traditional skills are a source of both pride and income," Ren says.
The program has helped more than 6,000 families in the province-to connect producers with on-line and off-line markets, and to find outlets for their work at auctions and charity events. Through seminars, classes and case studies, it offers training on branding, e-commerce and management. It also invites professional artists to work with the participating artisans to develop new designs.
Blue Flower Foundation was set up last year to solicit public donations, so that women artisans from different ethnic groups would have seed money to start their own businesses. Their products are gathered for exhibitions regularly.
By the program's count, the participants from minority ethnic groups were earning 30 percent more on average by mid-2015. Traditional arts like embroidery, batik-making, paper-making, brewing are getting a better chance to survive as more turn back and study their old crafts.
Yang Chunyan, a 40 year-old from Naobili Batik Cooperative in the Miao ethnic Jijia village also benefited from the program. She came to Beijing with an all-woman cooperative's batik cloth.
"Our products are good, all natural," she says, still a little shy about peddling. Artisans used local beeswax for graphic printing and organic pigments for dyeing. As for the patterns, the ubiquitous butterfly is their ancestor who gave them life. The bird gives them millet for food. And fish is a symbol for fertility.
"Balik tells our stories in images and brings good luck," she says. "I just wish I can make more of it."