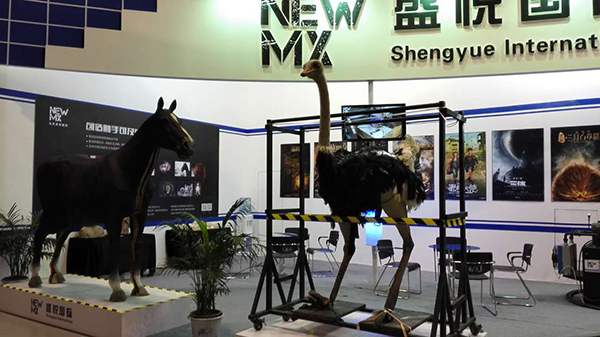 Imitation animals, such as the horse and ostrich, displayed by the company Newmax Workshop that makes props for films.[Photo by Xu Fan/China Daily]
In the 2014 film Beauty and the Beast, the heroine Belle walks onto the balcony of a palace and takes a look below. The houses, streets and citizens form a grand landscape of her fictional kingdom. There is a surprised look in her eyes.
But if you thought the actress playing Belle really saw the scenes portrayed, you are mistaken. What she saw during the shooting was a huge green screen, but the director looking at the camera view would see the complete scene with the actress in it.
Experts showcased this cutting-edge technology to visitors at the opening of the 2015 China 3-D Technology & Creation Expo.
The Franco-German film was used to showcase the screen technology, which is now widely used in movie shooting.
In the past, directors could see the visual effects only after shooting the film, but now technology allows filmmakers to see the virtual scenes as the actors are performing in front of the camera.
The expo, one of the events at the ongoing 2015 Beijing International Cultural & Creative Industry Expo, was held from Tuesday to Saturday.
Regarded as one of the most influential events promoting new technologies, the annual event is organized by the Beijing Council for the Promotion of International Trade, the ICCIE committee and the Chinese Institute of Electronics.
"Most of the technologies shown at the expo are open to the public the first time, and represent the highest level of the Chinese film industry," said Sha Jinfei, executive director of the China Science Writers' Association, at the opening ceremony.
China's movie industry has seen quick development in the past five years.