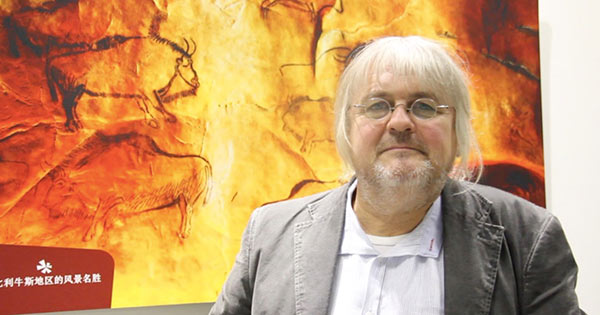 Jacques-Rémy Girerd, one of the most celebrated animated French film directors, will be in China from Oct 25 to 30. [Phot by Nick Bedard/chinadaily.com.cn]
French director Jacques-Rémy Girerd wraps up his China tour today at the [Aniwow!2015] festival hosted by Peking University in Beijing.
Girerd began his tour on Oct 25 in Shanghai before flying to Beijing on Oct 27, where he was invited by the French embassy in China to take part in a press conference and a public viewing of his Emmy-nominated 1998 animation short film, L'enfant au greolot (Charlie's Christmas).
His animated films hold a unique style of 2D drawings that through deeply emotional stories capture the heart and soul of his audience.
"In the theatre, when my film is showing, I often sit with my back facing the screen and watch the public. I like to see their reaction. I see the same emotional reaction from adults as I do children. Animation films bring out the kid within the adult. From grandmas, to mothers, to daughters, I often see the same results," says Girerd.
Folimage is a French animation studio founded by Girerd in 1981. The mid-sized studio produces animation for films and cinemas. On his trip to Shanghai, Girerd says he received a few interesting collaboration offers from Chinese illustration studios. While Girerd remains optimistic, he says collaborations are complicated.
"There's a potential for collaboration. On the administrative level, we came to an understanding with the people who are responsible for this plan. But it's not easy to finalize the deal. I think the process is improving, but it's still very difficult. There are some successful co-production experiences in China. We plan on overcoming the challenges," Girerd says.
Despite his studio being over 8,000 km away from China, Girerd keeps close ties to the culture, as one of his employees is a Chinese-born artist who, thanks to Folimage, produced her own film.
"We've created one of our own collaborations with a Chinese who is working at our studio in France. Her name is Hefang Wei; she did a very interesting production called The Banquet of the Concubine, which illustrates the synopsis of Asian culture and Western culture. We are going to show it at the master class tomorrow. We are going to use such films to try and enhance our relationship with Chinese studios," he says.