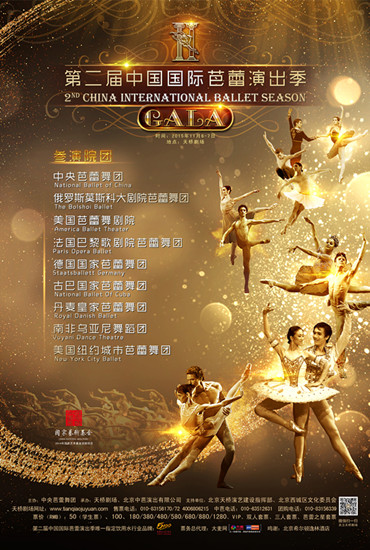 A poster of the of 2nd China International ballet season. [Photo provided to chinadaily.com.cn]
World-renowned dancers from top ballet troupes all over the world such as Paris Opera Ballet, Bolshoi Theater of Russia and American Ballet Theater, will treat Beijing ballet fans to a stunning performance together on Friday at Tianqiao Theater in Xuanwu district.
As the opening gala of the 2nd China International Ballet Season, the performance will present selected pieces from the most classic ballets like Swan Lake and Don Quixote, and spotlight the techniques as well as performing styles of both classical and modern ballet dance.
The gala consists of two parts, with eight short performances in each part by principal dancers from different world-class troupes. As the first performance of the gala, dancers from Bavarian State Ballet and National Ballet of China will co-perform Scene II of Swan Lake, a show with drama, beauty and passion. Lucia Lacarra, the superstar of Bavarian State Ballet, will perform the classic pas de deux with Marlon Dino, her best partner and husband.
Aurélie Dupont, principal dancer of Paris Opera Ballet as well as Ordre des Arts et des Lettres winner, Sarah Lane Ribagorda, soloist of American Ballet Theatre as well as the stand-in ballet performer of Natalie Portman in the film Black Swan, Evgenia Obraztsova, prima ballerina with the Bolshoi Ballet in Moscow, and several other outstanding dancers are also on the performing list of the gala.
In addition, dancers from the National Ballet of China will perform the most brilliant part of their last original ballet Crane Whisperer, a Chinese version of Swan Lake. The ballet's story is about a girl named Mengjuan from a family that looks after cranes. She sacrifices herself to save some cranes in a thunderstorm.