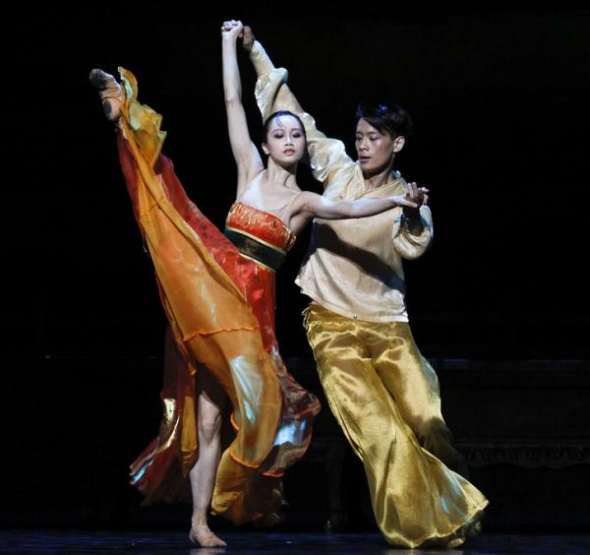 The love story of the Emperor Xuanzong for his concubine Yang Yuhuan is retold through modern ballet at the Shanghai Grand Theater. [Photo/CNTV]
It is a story that will forever be told and retold — the love of the Emperor Xuanzong for his concubine Yang Yuhuan. But this is the first retelling through modern ballet.
"Echoes of Eternity" premiered last week at the Shanghai Grand Theater.
"Echoes of Eternity" was adapted from a famous Tang Dynasty poem "Changhenge", or the Song of Everlasting Regret. The German choreographer behind the show says he ran into the English version of the poem at a bookstore in Shanghai, and proposed adapting it for ballet theater.
In the original story, Yang Yuhuan was emperor Xuanzong's favorite concubine of the time. The emperor was so fascinated with her that he even neglected his duties. Rebellion broke out and drove the emperor out of the capital. The guards blamed Yang Yuhuan and her family, and forced the emperor to have her strangled to death.
"It won't be the final version, as we'll make further changes. We're always looking for better ways to tell stories Chinese literature through Western ballet. It's a brand new production, so there must different comments. And we welcome all of them," said Xu Lili, director of Shanghai Ballet.
"Xuanzong's love with his concubine is true and touching. He is the emperor, but at the same time, an ordinary man in front of love. That brings a lot of contradictions to the character," said Wu Husheng, principal dancer of Shanghai Ballet.
Wu says the image of the emperor might be a little different from the classic story, as takes to his concubine's embrace several times. The choreographer also added a new role in the ballet production, a moon fairy that witnesses the whole story from high above, as her existence transcends time and space.
Over the past four months, dancers have been spending about 10 hours a day rehearsing and say the process has been demanding. Just two weeks before the debut, Chan Yan, the dancer who took the lead role of Yang Yuhuan, fell ill and had to stay in a hospital. The 18-year-old rising star Qi BingXue has done well in her place.
"The dancers didn't even wear toe shoes. It's very different from the classical ballet performance that we usually see. I'm happy to see that the production was done from the perspective of human nature," said a dancer named Huang Doudou.
In October, it will be staged in Beijing, and will then run at the China Shanghai International Art Festival.