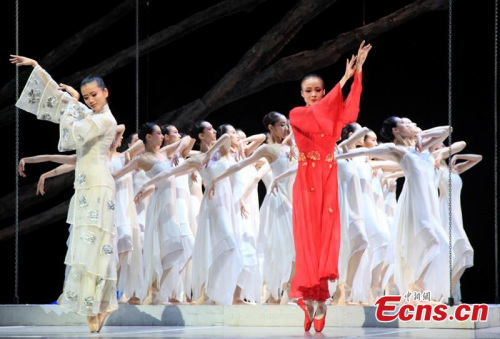 Chinese dancers stage "Peony Pavilion" ballet show in Lincoln Center Theater on July 8, 2015. [Photo/Ecns.cn]
Dancers of China's National Ballet Troupe (CNBT) staged Tuesday night the Peony Pavilion, one of the most famous love stories in China, at Wolf Trap Performing Art Center in the US state of Virginia.
Written by Tang Xianzu in 1598, the Peony Pavilion is often compared to Shakespeare's Romeo and Juliet, which was written in the same year.
By combining Western ballets and distinct national art characteristics, the CNBT artists successfully presented the 400-year-old story that advances through dreams and visions, and across the boundaries between life and death.
As a CNBT production in 2008, the two-act and two-hour-long "Peony Pavilion" show has fulfilled a dream to create a Western ballet with Chinese characteristics and was cordially welcomed by American audiences.
"Both the plot arrangement and dancers' acting in the performance of the 'Peony Pavilion' are ingenious, crossing over between Chinese culture and ballet," said Keith Briana, an art-majored university student in Virginia.
The story is also impressive and attractive, exploiting the elements of elegant dance and exquisite costume to showcase the strength and eagerness for love and life, she said.
Before the night in Virginia, the same Chinese dance group gave three performances of the Peony Pavilion and two of another show -- the Red Detachment of Women -- in Lincoln Center in its annual summer festival.
The CNBT's tour in the United States is a program on the outcome list of the Sixth Round of China-U.S. High-level Consultation on People-to-People Exchange, which was held in Washington at the end of June.
For over 50 years since its formation, the CNBT has served as an excellent cultural envoy of China, giving thousands of performances across the world.