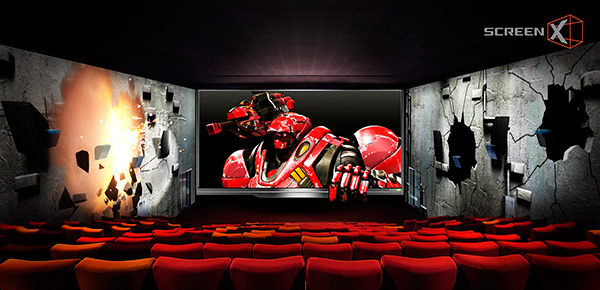 Cooperations between Chinese and South Korean filmmakers are growing and the ScreenX system is one of the latest examples.[Photo provided to China Daily]
Chinese films make big splash in South Korea, but industry insiders want more. Wang Kaihao reports in Seoul.
Seoul recently hosted a film festival, where nearly a dozen Chinese features from the past few years were screened including Monster Hunt, the highest-grossing Chinese film, Monkey King: Hero Is Back, an animation hit from the past summer and Black Coal, Thin Ice, an award-winning thriller.
The Chinese Film Festival, an event held every two years since 2006, is jointly organized by China's State Administration of Press, Publication, Radio, Film and Television and the Korean Film Council.
"We want to not only show ancient Chinese culture but also reveal modern Chinese people's attitude toward life so that Korean audiences can understand them better," says Mao Yu, deputy director of the film bureau under the state administration.
According to Han Sang-hee, the director for industry promotion at the Korean Film Council, 72 Chinese films were screened in South Korea last year, comprising 6.6 percent of the total 1,095 films shown in Korean cinemas then. While their box-office ticket sales comprised less than 1 percent, Han believes Chinese films have the scope to do well in South Korea.
"Many Korean moviegoers' impression of Chinese cinema is still about the 'golden times' of Zhang Yimou and Chen Kaige," he says, adding that local audiences have yet to fully grasp developments in contemporary Chinese cinema.
"Such film festivals will promote the latest success and can be a solution, but closer industry cooperation is the long-term cure."