Ningxia uncorks unprecedented wine contest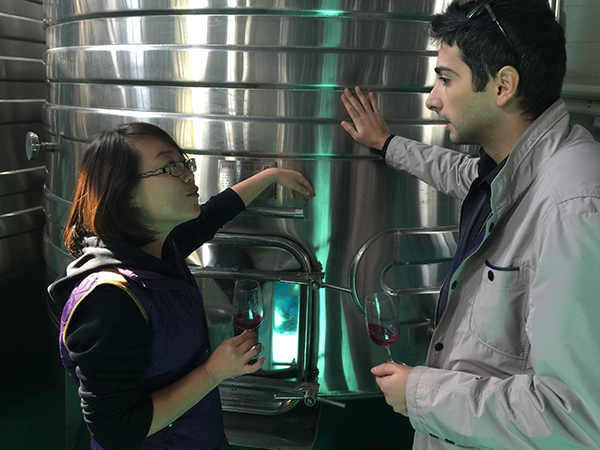 Competitor Alessio Fortunato (right) from Italy talks about blending with Zhang Jing, winemaker at Helan Qingxue, where Fortunato's entry will be aging until the judging in 2017.[Photo by Mike Peters/China Daily]
Now that the grape harvest season has come to an end, 48 winemakers from 18 nations are awaiting the next phase of the Ningxia Wine Challenge, in which they are competing for cash prizes in China's most high-profile wine region. The post-fermentation analysis is now beginning for wines that will be ready to drink in 2017.
The two-year challenge, a contest with 600,000 yuan ($93,750) in cash prizes on the line, was organized by the Ningxia Hui autonomous region's wine federation and supported by its Bureau of Grape Industry Development. A lottery system partnered winemakers and wineries, then grants each team 3 hectares of cabernet sauvignon grapes to make wine. The results are now in fermentation tanks and will be judged in 2017, with the top 10 percent receiving 100,000 yuan each and the next 20 percent getting 20,000 yuan each. The organizers also plan to give each winemaker several thousand bottles of the wine he or she makes.
"It's a good opportunity for many to experience the potential of Ningxia first-hand," says Alessio Fortunato, a participating winemaker from Italy who is currently a professor at Northwest Agriculture and Forestry University in Xi'an, Shaanxi province.
"No other wine region has attempted a competition on the scale of the Ningxia Wine Challenge," says Jim Boyce, the organizer of the project for Ningxia trade group, whose Grape Wall of China blog is widely read by both the industry and individual wine aficionados. "It follows a smaller Ningxia project that ran from 2012 to 2014 with seven foreign winemakers. The key goals include raising the region's profile and facilitating both cultural and technical exchanges. Participants were chosen from more than 140 applicants by a panel of independent judges in Argentina, Australia, China and the United States."
Virtually unknown five years ago, Boyce adds, Ningxia has emerged as one of the planet's most intriguing wine regions. Its wines have won accolades at home and abroad, including from critics such as Jancis Robinson, Michel Bettane, Thierry Dessauve and Jeremy Oliver and publications such as Decanter and La Revue du Vin de France.
The Ningxia wine industry has experienced substantial growth during the past dozen years, with vineyard coverage rising tenfold to 30,000 hectares and the number of wineries now topping 70, with another 50 awaiting approval. Plans are underway to add more wineries and to build a robust wine-tourism sector. The best-known wineries are nestled between the Helan Mountain range to the west, which provides protection from the wind, and the Yellow River to the east, which provides a source of irrigation water.