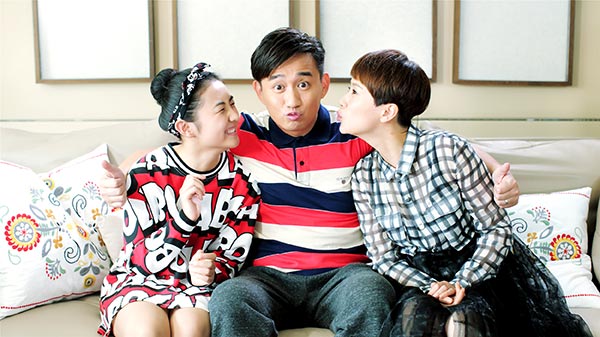 Actor Huang Lei (center) and actress Hai Qing (right). [Photo provided to China Daily]
An upcoming TV series featuring the rising trend of Chinese teenagers going abroad got a lot of attention at the recently concluded 2015 Beijing TV Program Market & Exhibition.
A Love for Separation, a 36-episode series, chronicles the joys and sorrows of three Chinese families that sent their middle-school children to the West for further education.
With a stellar cast, led by TV stars Huang Lei and Hai Qing, and a tale catering to local interests, the series was one of the most popular programs in the exhibition held from Oct 20 to 22.
Nearly 27,000 episodes of 664 television series were featured at the annual exhibition.
While most of the lead stars, such as the Chinese-American actress Vivian Wue, are favorites of middle-aged audiences, the ensemble cast also appeals to the youngsters.