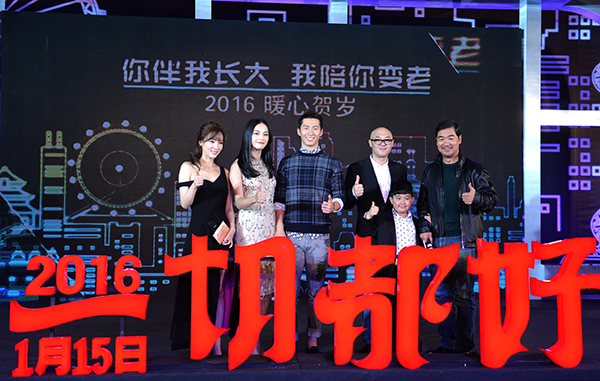 Cast members of the Chinese remake of Everybody's Fine, including director Zhang Meng (third right), actor Zhang Guoli (first right) and actress Yao Chen (second left) at a promotional event in Beijing.[Photo provided to China Daily]
Sentimental Chinese moviegoers will probably have their heartstrings pulled early next year before they journey back to their hometowns on the eve of Spring Festival.
A Chinese remake of Everybody's Fine, a classic Italian drama from the 1990s, directed by well-known filmmaker Giuseppe Tornatore, will be released on Jan 15.
The original production depicts a retired Sicilian bureaucrat's trip around the Italian mainland for a surprise visit to his five adult children, all of whom claim to be "fine". Both generations find themselves reconsidering the parent-children relationship.
In 2009, a starry Hollywood cast, including Robert De Niro, Kate Beckinsale and Drew Barrymore, brought a remake of the film to theaters.
Ma Ke, producer of the Chinese film, recalls that he fell in love with the story the moment he watched the original film and immediately planned to adapt it into Chinese because films that stir family emotions have great resonance here.
"Parental love has no national boundary," Ma said at a promotion event on Monday in Beijing. "Many Chinese children go far away from their hometowns to build careers. We want to record that emotion.
"We even believe Chinese people are better able than Westerners to understand such subtle feelings."
An interesting fact: The 2009 Hollywood remake of Everybody's Fine got a "just-fine" 7.2 out of 10 points on Imdb.com, a major film fan's website based in the United States. However, it got 8.7 points on Douban.com, a Chinese film site.
It took Ma two years to get the adaption copyright. He says that the copyright holder was reluctant to allow the adaption at first, but the agreement was finally reached with the involvement of William Kong, a world-renowned Hong Kong film producer.