Shopping report shows domestic fashion brand consciousness still weak
According to the Report of Shopping Habits of Chinese Consumers organized by the China Daily Website, a majority of consumers have yet to form a preference towards specific domestic fashion brands and most are not familiar with works by Chinese designers. When it comes to the future of domestic brands, artisanship, design and quality of textile were voted as the focus points of tomorrow.
A questionnaire on fashion was issued to Chinese people who work across borders or engage in managing cross-border relationships. A total of 1,937 responses were received.
Female consumers care more about fashion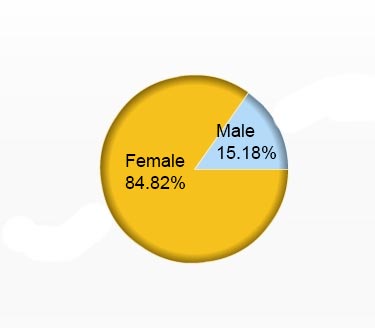 Sex ratio of respondents. [Photo/chinadaily.com.cn]
Nearly 85 percent of respondents were female.
Li Zhe, a teacher at Beijing Institute of Fashion Technology, said the data is a direct reflection of the interest in fashion posed by the two sexes. When it comes to shopping, the majority of male consumers are "rational" and looked for practical and comfortable items while paying little attention to the brand. Females, however, are usually more "emotional" and look for style, trend, the fitting and quality.