Overseas galleries exhibited quality works at the first Guardian Fine Art Asia in Beijing last year. [Photo provided to China Daily]
Free trade zones in China are providing domestic and overseas art market with more opportunities for business.
An exhibition of artworks in bond will be held in Beijing's Tianzhu Free Trade Zone in December. This was announced at a recent forum on how free trade zones can help meet the country's demand for artworks from abroad.
The forum was part of this year's Beijing International Cultural and Creative Industry Expo, and brought together art gallerists, art auctioneers and experts in authentication and laws both from home and abroad.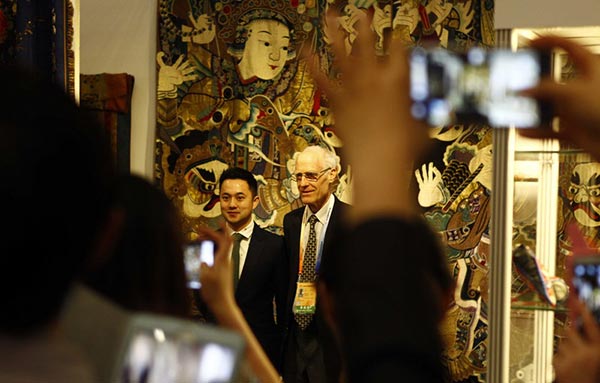 The first Guardian Fine Art Asia in Beijing last year attracted wide attention for bringing together quality artworks from overseas. [Photo provided to China Daily]
Xue Guofang from the China Culture Relics Protection Foundation said that as homegrown art institutions are in search of rare and exquisite works, it was necessary to provide services to save costs and time in logistics and customs declaration.
The trade in art is increasing in the free trade zones. For example, exhibitions are now regularly held in the Tianzhu Free Trade Zone where people have access to artworks from overseas and exhibitors too don't have to pay high tariffs.
Auction houses can also sell artworks from abroad and the transactions are completed in bonded warehouses.
Attendees at the forum said that there were even more ways to boost art-related business in the free trade zones.
Related:
Works of ink masters to be auctioned