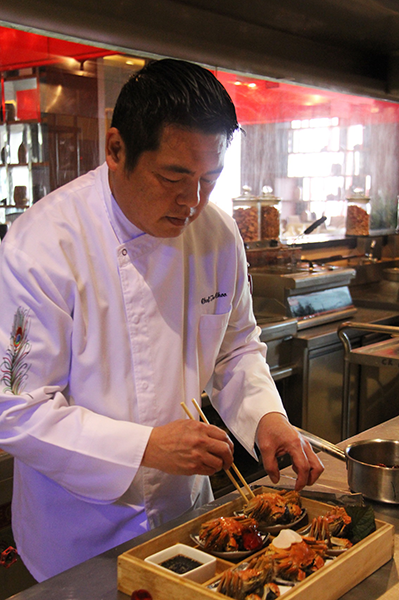 Tony Choo creates new flavors for hairy crabs by braising them with herbs used in Chinese medicine.[Photo provided to China Daily]
Nearly 28 years ago, when Tony Choo enrolled in the Singapore Hotel and Tourism Education Center, a famous hospitality school, he learned Western cooking.
So how did the 45-year-old wind up being one of the top Chinese cuisine chefs in Beijing's dining world?
"I like the generous and liberal style of Chinese cuisine and the feeling of cooking food in a busy and lively Chinese kitchen," says Choo, who won the Culinary Art Master Award from the Les Amis D'Escoffier Society in 2011, and was crowned the winner in CCTV's Greatest Chef show in 2014, beating Michelin-starred competitor from Italy.
Born in 1970 in Singapore, Choo started working as helper in Cantonese restaurants in 1991, to learn Chinese cuisine, after he dropped out from the Singapore school that had Western cuisine dominating the class timetable.
He learned fast, and in 2003, while working for Singapore's TungLok Group of restaurants, he was assigned to Beijing to open the company's new eatery My Humble House.
The restaurant made an impact on dining in the Chinese capital as soon as it opened in 2004, due to its modern Chinese cuisine concept that pays great attention to Western cuisine, especially when it comes to presentation.
However, despite the restaurant's popularity among diners, Choo felt at a loss when it came to Chinese cuisine, until a food critic commented that his dishes had no "soul", because they lacked authentic Chinese taste, Choo recalls.
"I then realized that Chinese cuisine must be 100 percent Chinese, and should not be combined with Western cuisine," Choo says.