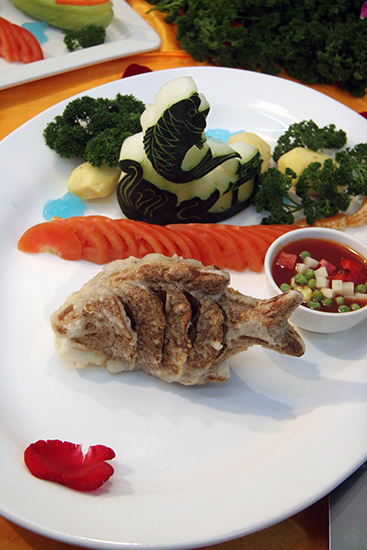 Hong Kong restaurants and hotels have joined a monthlong campaign to promote the sustainable consumption of seafood.[Photo provided to China Daily]
A new report on overfishing of popular seafood species in Asia has spurred Hong Kong eateries to serve up more sustainable fare, Mike Peters reports.
About 25 Hong Kong restaurants and hotels have joined a campaign to promote the sustainable consumption of seafood, a monthlong program that was launched on Tuesday with the release of a new study indicating that some marine resources in the South China Sea have been overfished to as low as 5 percent of their 1950s levels, while demand continues to rise.
Participating eateries and caterers will provide at least one certified-sustainable seafood dish on their menus until the end of November. Caterers for schools, corporations and universities are hosting programs to educate the local community about the state of marine ecosystems in the South China Sea. Restaurants, hotels and organizations taking part in the festival include Four Seasons Hotel Hong Kong, Grand Hyatt Hong Kong, Cafe Gray, Sohofama, Cafe Deco, Ocean Park, the University of Hong Kong and the Hong Kong Jockey Club.
The Napoleon wrasse and the coral grouper, two reef fish highly prized in Hong Kong, have declined from relative abundance to about 20 percent of their populations just eight years ago.
"The most vulnerable groups include grouper, large sharks, threadfin bream and large croaker, which are projected to drop by 50 percent or more during this period," says the University of British Columbia's William Cheung, a co-author of the report.
In the study Boom or Bust, The Future of Fish in the South China Sea, researchers from the Canadian university found that other seafood resources have been reduced to just 10 percent of their populations since the mid-1990s. "Even in more remote fishing locations, catch rates have declined three to four times over the past two decades," according to the study, which offers a pathway to a more sustainable future.