Seafood industry adapts to market changes
By Lyu Chang(China Daily) Updated: 2015-07-22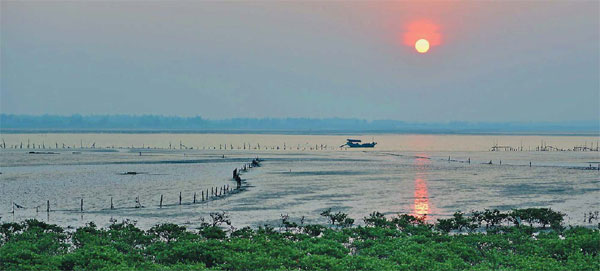 A view of the coastal city of Zhanjiang in southwestern Guangdong province. [Photos Provided to China Daily]
Declining global demand, rising labor costs force firms to provide more value-added products
With China's seafood industry no longer enjoying a "golden era" amid soaring labor costs and shrinking demand from overseas countries, many seafood producers are keen to upgrade their products, according to industry experts.
"The golden age for the development of the seafood industry has already passed, and we are now in a period of stable growth," said Eric Wang, president of Asian Seafoods (ZhanJiang) Co, a major supplier of aquatic products for supermarket chains including Walmart and Parkson Retail Group.
"As a result, we have to transform our industry with more value-added products to expand our profit margin," he added.
Located in Zhanjiang, a production base for shrimps in China's Guangdong province, the company sells shrimp products, tilapia fillets and frozen fish products to the United States, Canada, Japan, Korea and several countries in Europe.
Wang said the company has two factories in China with different marketing strategies. The factory in Guangdong province serves as a production base for exports, while the other in Zhejiang province, is a major provider for the domestic market.
"Actually, 80 percent of the revenue of my factory in Zhanjiang comes from exports," he said.
Asian Seafoods (ZhanJiang) raked in about 67 million yuan ($10.79 million) last year, a double-digit growth compared with the previous year.
"We are now trying to keep that growth for business, but we did better in the past when demand from the global market kept increasing," Wang said.
Between 1999 and 2008, which Wang called a "golden age" for the aquatic industry, growth in revenue for the overall market went from 50 percent to 100 percent.
However, as labor costs have continued to soar and there has been declining demand from Western countries, profits for many Chinese aquatic companies have shrunk quickly.