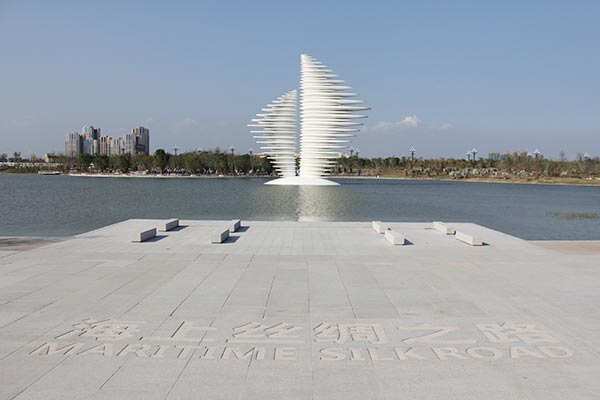 The Maritime Silk Road, officially the 21st Century Maritime Silk Route Economic Belt, begins in Quanzhou, Fujian province. To honor this special feature, the Maritime Silk Road Art Park features this special monument. [Photo by Nick Bedard/Chinaculture.org]
QUANZHOU, FUJIAN -- The 14th Asia
Arts
Festival is to open Nov 8 here in Quanzhou, Fujian province.
Organized by the Ministry of Culture and the Fujian Provincial People's Government,the seven-day event features diverse and dynamic Asian cultures and arts. Artists from 26 different countries and regions will showcase their cultural beauty.
The festival's theme, Love for Asia, reflects the pursuit of dreams set by the core of the Maritime Silk Road. The event highlights the "Belt and Road Initiative" and cultural ties among the historical path.
A large-scale newly built theme park named after Maritime Silk Road is to be unveiled during the festival. The architecture's design and layout has close ties to the theme's historical heritage, making the park a unique visit for travellers from across the world.
Meanwhile, a variety of cultural affairs will be introduced to the public, including stage performances, visual art exhibitions, seminars, forums of cultural exchanges and online interactions. A total of 16 major events will be held during the week.