TV adventurers munching on bugs stirs Internet debate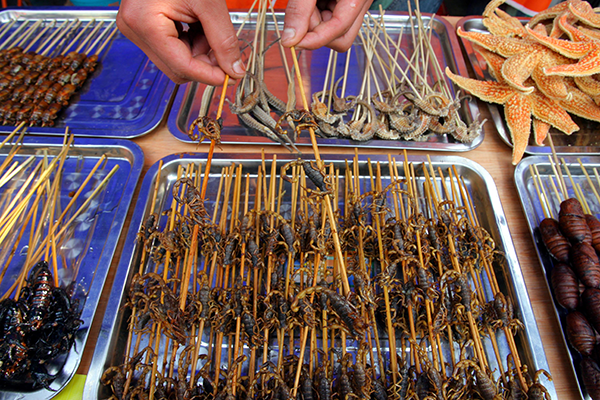 A street vendor in Nanjing, Jiangsu province, sells various fried insects.[Photo provided to China Daily]
British adventurer Bear Grylls is globally known for his long-running survival and outdoor-adventure shows, such as Man vs Wild and Born Survivor.
In his first collaboration with Chinese TV, the celebrity reality show Survivor Games, Grylls challenges eight Chinese stars to spend more than two weeks in the tough jungles of South East China's Guizhou province. The recently aired episode provoked heated discussion beyond the adventure story - a debate about eating raw creatures and insects, after he and his crew gulped down living earthworms.
The show has been floating near the top of the ratings charts since it aired on Oct 16, as well as making it to the hottest topic list on Sina Weibo, the Chinese version of Twitter.
However, while some people here wowed by the adventurer's daring, others commented that there are many more edible insects than people may realize, and eating them has a long history in China.
"Our ancestors have passed the knowledge from generation to generation of which insect is good to eat, and which not," says Zhang Jianhui, from Yunnan province. Zhang and people in his area eat myriad varieties of insects, mostly fried and sometimes raw, including bamboo worms, bee and wasp pupae, ants, cicada pupae, grasshoppers, water dragonflies, spiders and locusts.
Markets in Yunnan are bursting with various insects in season. In the past, people caught insects from the wild to make an additional dishes or wine in the style of traditional Chinese medicine; now people commonly raise insects on farms due to their high nutrition value.
Different insects have different flavors and textures, but most of them are crispy and aromatic after being briefly fried in oil, according to Zhang, who is head chef at the Rainbow Yunnan Restaurant in the Crowne Plaza Beijing Sun Palace.
"Compared with killing them with insecticides, it is better to eat them," Zhang says, adding that almost every restaurant in Kunming, Yunnan's provincial capital, offers insect dishes.
Wang Mian, 33, a farm owner in Beijing, agrees.
Eating insects is a good way to ease the burden the increasing population poses to the environment, he says. That is because insects are packed with protein, and many are more efficient sources of protein than animal meat, Wang adds.
Wang says he has eaten all kinds of insects while he studied and worked abroad, especially in Africa, and in his opinion, eating an edible insect is just like eating a crab or snail.
"Some people feel it is disgusting to eat insects, and that merely results from the fact that they haven't had any experience in eating these delicacies," he adds
"Once people try them, they will find insects are quite tasty and nutritious."
Wang plans to start raising rhinoceros beetles on his farm in suburban Beijing next month to supply local restaurants, and he is confident about market demand.
Xu Fan contributed to this story.