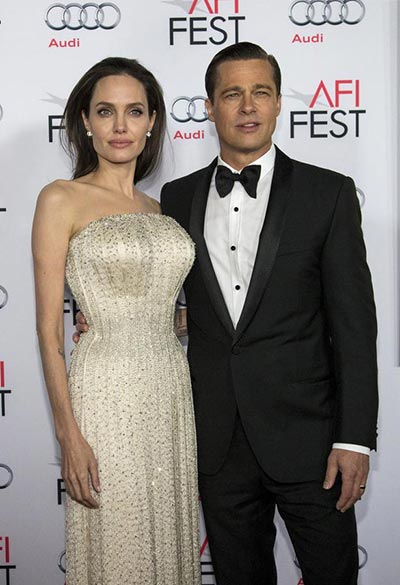 Director and cast member Angelina Jolie and her husband and co-star Brad Pitt pose at the premiere of "By the Sea" during the opening night of AFI FEST 2015 in Hollywood, California November 5, 2015. [Photo/Agencies]
Angelina Jolie and Brad Pitt attended the LA premiere of their film By the Sea on Thursday.
Written and directed by Jolie, the movie is inspired by her grief over the death of her mother in 2007, and also her 10-year relationship with Pitt.
But the actress-writer-director warned audiences not to read too much reality into the film.
"It's probably the most - this story is not our story. These issues are not our issues. But it is a personal film and it does deal with ... It's your own life. It's your own depression. It's your own questions about your mother. Grief. Where to put your pain. And it's something that I think connects in a way that it's hard to say that it's important or that people should enjoy it. But it's something that you say, 'Really, it's a piece of art. It's not commercial. And, maybe, if you're young and haven't lost or haven't been in a long relationship, you won't understand it. But if you have, it might connect.' And I hope it really does."