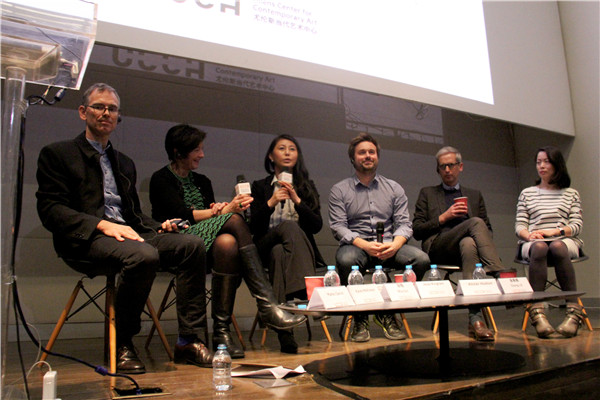 The panel from left to right: Marko Daniel (Tate), Karen McKinnon (Artes Mundi), May Xue (UCCA), Jesse Ringham (Tate Digital), Zhang Lili (Power Station of Art) at UCCA in Beijing's 798 Art Zone on Nov 4, 2015. [Photo by Nick Bedard/chinadaily.com.cn]
It has been over a week since President Xi Jinping left the UK after his historic visit. While the 2015 UK-China Year of Cultural Exchange continued to show its strength with four days of educational talks at the China-UK 2015 Museum Dialogues in Beijing. 
Leading professionals in the UK and Chinese art organizations were hosted by three of China's top art institutions including CAFA Art Museum (CAFAM), the Ullens Center for Contemporary Art (UCCA) and OCT Contemporary Art Terminal Beijing Institute (OCAT). The seminars included a variety of academic themes such as: The role of the contemporary art museum in society, The roles of research in developing collections and programs, The role of artists and audiences. UCCA wrapped up the seminars on Nov 4 with an excellent closing panel of May Xue (UCCA), Zhang Lili (Power Station of Art), Alistair Hudson (Mima), Karen McKinnon (Artes Mundi), and Jesse Ringham (Tate Digital).
China-UK collaborations
For Pi Li, senior curator at M+ in Hong Kong, this type of China-UK museum dialogue gives credibility to the established relationship between both countries.
"The most importing thing is that this is not a one direction collaboration. We are here not only to exchange ideas on shows, but to gain an understanding of each other's art scene," says Li.
"I think both China and UK institutions want to expand their international audience. And to have conferences such as this one, it's great to be able to understand their standards. And understand what their priorities are. Once we gather this information and understand it, then we can make the proper exchanges."
One of the most popular figures at the UK-China 2015 Museum Dialogues was Tate's digital marketing chief Jesse Ringham. During Wednesday's event at UCCA, Ringham said his trip to Beijing was a learning experience, and was fascinated by the power of China's social media giant WeChat.
"Being here in China for the past week made me realize that I need to learn so much more. From what I got out of WeChat, is that it gives us (Tate) this whole new opportunity to put Tate out there to a Chinese audience."
With China's growing interest in the UK, the tourism industry is something that Ringham is keeping a close eye on. He believes that with the proper marketing tools, Tate could become one of the destinations for Chinese tourists traveling to London.
"We've done our research, and Tate is not very well-known outside of Western Europe. Our meeting with the British Council here in Beijing was very important. Our next step is to work directly with the culture institutions in China to collaborate with content, with art, and with digital productions."