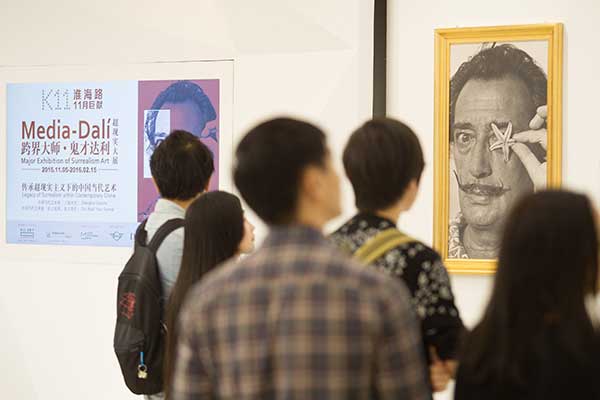 Visitors at the ongoing exhibition of Dali's works at K11 Art Mall in Shanghai.[Photo by Cha Jufeng/China Daily]
An exhibition of works by surrealist Dali in Shanghai is drawing big crowds as the city's residents develop a growing passion for work by great Western artists. Deng Zhangyu reports.
On a recent rainy Thursday afternoon, lots of young people were waiting outside a gallery in a shopping mall in Shanghai to see works by Spanish surrealist Salvador Dali, although many of them did not know much about him except that he was well-known in the West.
Cai Wei was one of those who was there to see Dali's works at K11 Art Mall on the opening day of the show that continues through February.
Cai, 26, who works near the mall and spent her lunch break seeing the Western master's art, said she planned to visit the exhibition again that evening to accompany a friend.
"I know very little about Dali. But I enjoy seeing a Western master's art," says Cai.
The young woman paid 120 yuan ($19) for the show, which is about the same price of a 3-D film ticket. She says many of her friends are also interested in exhibitions of Western master artists.
Shanghai has had many such shows in the past two years.
"Western oil paintings, sculptures and videos are easy to understand. They are close to life," says Cai.
In the past two years, the works of masters like Van Gogh, Picasso, Monet, Renoir and Dali have been staged in Shanghai as the city becomes part of the world art circuit.
Jessica Liu, who sells tickets at the front desk of the Dali show, says that up to 2,000 visitors came to see the show on the opening day, though it was a working day.
Tens of thousands of tickets were sold before the show's opening, she adds.
Another Dali show showcasing more than 300 pieces by the artist, organized by a Swiss foundation Stratton, was held in September in Shanghai.
The Dali show at the K11 Art Mall is authorized by the Gala-Salvador Dali foundation, which says it is the official Dali foundation supported by the Spanish government. It was created by the artist himself.
Earlier this year, Van Gogh's shows also faced a similar situation: two shows of the artist's works by different organizers were held one after another.