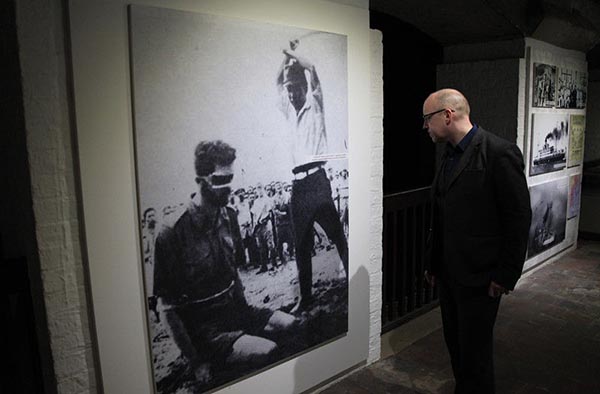 People visit photographic exhibition named "Forgotten Camp – Exhibition on Shenyang World War II Allied Prisoners Camp" at the St George's Hall in Liverpool, the UK on Nov 6,2015.[Photo by Chen Shan/chinadaily.com.cn]
An exhibition curated by the Shenyang World War II Prisoners of War Camp Museum opened its door to the public in the historic UK port city of Liverpool today, part of the UK-China Year of Culture.
At a formal open ceremony yesterday, Fan Lihong, Curator of the Museum, told a group of UK and Chinese guests at the formal opening that the exhibition, containing a wide range of photographs, sketches and other images of life in the camp , sends a peaceful message from the people of China to the rest of the world.
"I sincerely hope this exhibition will serve as an opportunity to establish contact with the relevant museums and archives, as well as veteran POWs and their family members," she said.
Shenyang Camp, once known as Mukden camp, is one of the best preserved of the 200 or so Japanese camps built to house Allied prisoners throughout occupied Assia.
It housed over 2,000 inmates from the US, UK, Australia, France and the Netherlands, and barely 1,600 survived when it was liberated in August 1945. The prisoners, who were forced to work in nearby Japanese factories, endured a regime of hunger, extreme cold, beatings and executions in the three-and-a-half years the camp was open.
Alan Joy, a UK resident whose late father Ronald Joy was a British Army gunner held in the camp after being captured at the fall of Singapore, paid tribute to local Chinese people, both in Singapore and Shenyang, who risked their lives to help prisoners with surreptitious offers of food and hard-to-find medical supplies.
He presented a selection of papers and artefacts his father had carefully preserved during his captivity, offering them to the Shenyang Museum "because that is the right place for them."
Shen Peili, Minister of the Chinese Embassy in London, officially opened the exhibition, which runs for seven days and will also visit France, Holland and the US. She paid tribute to the memory of the Allied soldiers who fought and died alongside Chinese soldiers in the fight against the Japanese invaders,
Liverpool, where many Allied troops embarked on their way to fight the Japanese in Asia, is staging the exhibition in the atmospheric prison cells beneath St. George's Great Hall, which was once a court of justice.