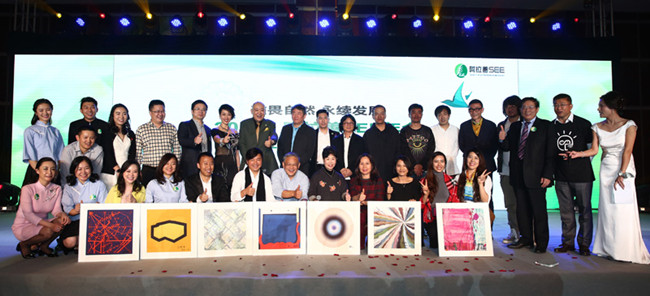 Artists and entrepreneurs at the charitable activity pose for a group photo. [Photo provided to chinadaily.com.cn]
More than 400 Chinese entrepreneurs attended a charity event in Beijing last Friday. During the three-hour activity, 1,900 sets of handkerchiefs designed by seven noted Chinese contemporary artists were sold out, and all the proceeds will be used to plant sacsaoul trees on the Alashan plateau in the Inner Mongolia Autonomous Region.
To support the "100 million sacsaoul trees" project, a public welfare project of planting trees in Alashan plateau founded by a nongovernmental charity Alashan SEE, staff members of artplus.com, a platform for securely managing media art ownership and multi-channel exhibitions, invited seven Chinese contemporary artists including Ding Yi, Tan Ping, Wang Jianwei, Ma Chengzhe, Peng Bo, Leng Guangmin and Yanlei, and set up the creative event with the theme of "Long time no see, Mr. handkerchief".
All the handkerchiefs are made of purified cotton. Each set consists of seven different designs with a total price of 1966 yuan ($309). Each purchase of a handkerchief is enough to buy 20 sacsaoul trees, which will prevent erosion on 200 square meters of sandy land.
According to Wang Limin, chief secretary of Alashan SEE, the activity aimed to raise the public's awareness about environmental deterioration, and attracted more cultural and artistic institutions to participate in environmental protection.
All the artists involved in the activity selected works for the theme carefully, and agreed to give the copyright free of charge. Tan Ping told the Chinese media that he wished to arouse Chinese people's memory of using handkerchiefs in the past with his creation.