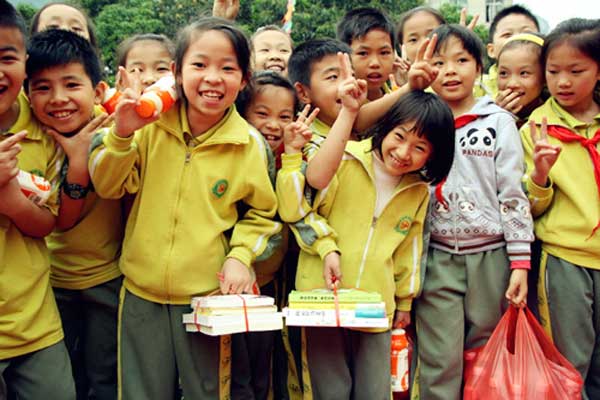 Students in Hechi, Southwest China's Guangxi Zhuang autonomous region, receive gifts given by Xinhuanet and Wahaha Group. [Photo by Zhou Liao/Xinhua]
Top legislators in China are mulling over the country's first ever charity law, in an effort to increase transparency.
A draft being discussed by the National People's Congress would require charities to publicize clear information on their operations.
It says such information should be released at least once every three months.
Liu Zhenlai, one of the delegates to the top legislature, said such regulation is in accordance to increasing social demand.
"The public is concerned about the donation amount, how the donations are used and its efficiency and whether the donations really benefit people. Corruption and misconduct in charity have blown the reputation of charity career and had a bad influence in the society. Therefore I propose to emphasize the regulation of the charity behavior and fundraising, ensure transparency in charity and the public's supervision on charity," said Liu.
The charity sector in China has developed rapidly in the past decade, with the amount of donations ten times that of 10 years ago.
The sector has also been boosted by the Internet and the popularization of social media in recent years.
It's been reported that last August, posts on social media platforms about the Ice Bucket Challenge were read 4.5 billion times here in China, with some 8 million yuan, or 1.2 million US dollars being raised.
Lawmakers at the NPC session also believe that with the spread of online donation platforms, special stipulation on online fundraising is also necessary.
NPC delegate Sun Baoshu is one of them.