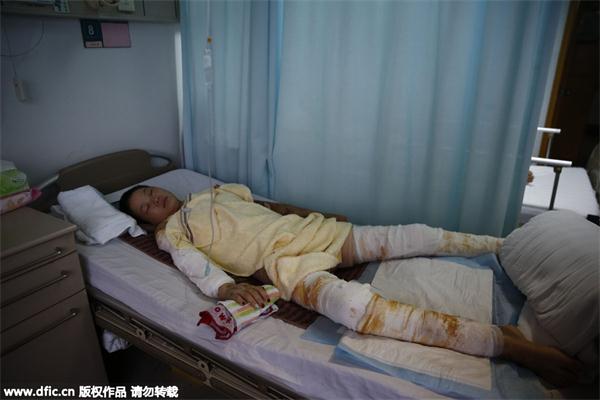 Li Juan lies in her bed at the General Hospital of Nanjing Military Region. [Photo/IC]
Li Juan, a 26-year-old woman from Lixin county, East China's Anhui province, became an overnight sensation after the story of her being mauled by a dog while trying to save a child from the same fate hit the Internet. People were so moved by her brave deed, they voluntarily donated a total of 800,000 yuan ($126,000) for her medical fees. However, a follow-up investigation turned the whole story upside down: The heroine was in fact a fake.
According to her boyfriend, who confessed earlier this week, Li was bitten while feeding his dogs. This unexpected change of situation naturally triggered a flood of criticism and condemnation.
And this is not an isolated incident, there have been many other occasions when ill-intentioned people have sought to take advantage of people's kindness for their own gain. For example, after the fatal explosions in Tianjin port in August, people donated 90,000 yuan to a man who falsely claimed that his father died in the blasts. He was later arrested for fraud when the police caught him in the lie. In another a man claimed to be helping disadvantaged children, when in fact his charity efforts were just a cover for his abusing them.
Misconduct such as this has disappointed and even hurt kindhearted donors, and many say they are now less likely to give money to people who seek help via the Internet. Worse, these straws keep adding up and there may come a point when one breaks the camel's back, destroying the public's already fragile faith in the country's charity work.
Yet when we learn of a tragedy on the Internet, it is difficult to determine if it is a scam or not, so despite all the times they have been wronged it is good that people are still willing to offer a helpful hand and extend their trust to strangers. On the other hand, the media that reported Li's self-directed and acted tragedy should have verified to the truth of the story so as to avoid being accomplices in the fraud.
Thanks to the rapid development of online social media, raising donations online emerged all of a sudden and has flourished in recent years, it has also become an increasingly preferable channel for civil charity than traditional means for donation due to its lower threshold, wider influence and higher efficiency, which could simplify the process and provide financial help to those in need in the shortest time possible.
However, due to the trust issue and loose or zero supervision in this regard, online donation collection, like every newborn creation, has met with support and doubt at the same time. A recent survey conducted by China Youth Daily found that, although 47.4 percent of the 1,737 interviewees used to donate via online platforms, only 28.5 percent said they trusted charity groups or individuals involved, while about 63 percent expressed concerns about the risks of being swindled.
Most online donation fraud happens when the donations are raised in the name of an individual, because the current relevant law and regulations concerning charity deeds and donations are all applicable to charity organizations rather than individuals. This leaves legal loopholes. Therefore, it is legally tricky to retrieve the money Li cheated from the kindhearted donors.
Given the aforementioned, it is a question worth thorough discussion how to guarantee those in need of help can get timely assistance while at the same time effectively avoiding frauds of such kind as much as possible. Moreover, the raising of donations online, as a new complement to the traditional charity, should no longer be allowed to exist in the vacuum of law and supervision. The practice should be brought under public scrutiny and the protective umbrella of the law, so as to play its intended role of helping those in need.
The author is a writer with China Daily. xiaolixin@chinadaily.com.cn