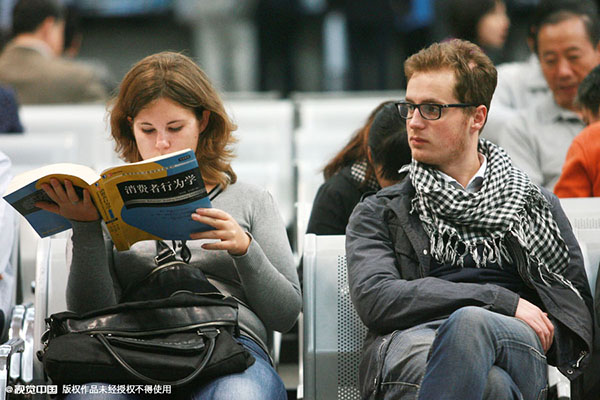 Two visa applicants wait at the Bureau of Exit and Entry Administration in Beijing in this Oct 12, 2012 file photo. [Photo/CFP] 
A simplified procedure for short visits of foreign experts to China took effect on Sunday, according to State Administration of Foreign Experts Affairs.
The regulation allows the local bureaus of State Administration of Foreign Experts Affairs to review and approve applications submitted by employers. Invited foreign experts could apply for a visitor visa for China within 90 days after getting positive feedback from them.
Required material includes application forms, invited foreign experts' identity information and invitation released by the employers. All these review and approve work would be done online.
Zhang Jianguo, director of the administration, said they have been adjusting their management to keep pace with the fast-changing realities of recruitment.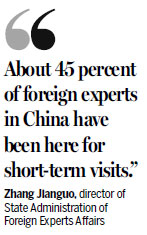 "In recent years, about 45 percent of foreign experts in China have been here for short-term visits," Zhang said. "We should also expand channels for short-visit experts, as we are trying to provide convenience for overseas talents to settle down in China."
Zhang added that the simplified procedure is a fast-track for foreign experts to teach, provide technical and consulting support in China.
Peter Kloeden, who teaches at Huazhong University of Science and Technology in Wuhan, said: "More foreign experts would like to come if they only had to stay two to four months in China."
Previously, foreigners had to get approval for short-term employment in China before they could apply for a short-visit visa from provincial and few municipal human resources and social security departments.
suzhou@chinadaily.com.cn